MS whips lens cap off WorldWide Telescope
To reveal? The inexorable blackness of space
Microsoft yesterday whipped the lens cap off the public beta of its much-anticipated WorldWide Telescope - a "rich Web application that brings together imagery from the best ground- and space-based observatories across the world".
Bill Gates duly trumpeted: "The WorldWide Telescope is a powerful tool for science and education that makes it possible for everyone to explore the universe. By combining terabytes of incredible imagery and data with easy-to-use software for viewing and moving through all that information, the WorldWide Telescope opens the door to new ways to see and experience the wonders of space. Our hope is that it will inspire young people to explore astronomy and science, and help researchers in their quest to better understand the universe."
The press release adds: "The application itself is a blend of software and Web 2.0 services created with the Microsoft high-performance Visual Experience Engine, which allows seamless panning and zooming around the heavens with rich image environments.
"WorldWide Telescope stitches together terabytes of high-resolution images of celestial bodies and displays them in a way that relates to their actual position in the sky. People can freely browse through the solar system, galaxy and beyond, or take advantage of a growing number of guided tours of the sky hosted by astronomers and educators at major universities and planetariums."
Sounds promising. Curtis Wong, manager of Microsoft's Next Media Research Group, joined the love-in with: "WorldWide Telescope brings to life a dream that many of us in Microsoft Research have pursued for years, and we are proud to release this as a free service to anyone who wants to explore the universe.
"Where is Saturn in the sky, in relation to the moon? Does the Milky Way really have a supermassive black hole in the center of the galaxy? With the universe at your fingertips, you can discover the answers for yourself."
Suitably inspired, we decided to download WorldWide Telescope, which is available for PC or Mac. First up, we were alerted to the fact that our machine was somewhat lacking in the "Microsoft DirectX version 9.0c or later and .NET Framework 2.0 or later" department, requiring the obligatory Redmond bolt-on download hiatus.
Still, WorldWide Telescope did finally load without the need to reboot the computer or call in a techie SWAT team, and this is what you get: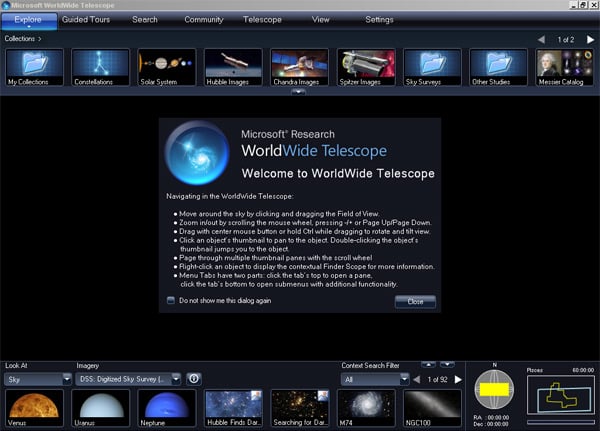 Right, since this is "easy-to-use", we got straight down to it and selected Hubble images: