The Sombrero Galaxy looked appealing, and in case you're wondering, here it is in all its infrared glory: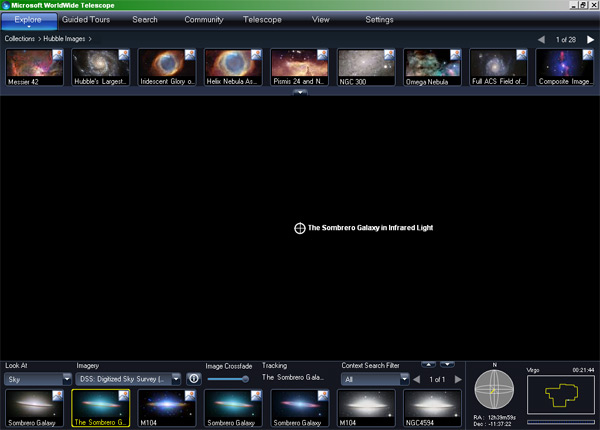 Well, although WorldWide Telescope helpfully notes that, at the time of our screengrab, the galaxy was lying at Right Ascention 12h39m59s and Declination -11:37:22 in the constellation of Virgo or thereabouts, the app resolutely refused to give us a closer look.
Somewhat disheartened, we decided to push off on a "Many worlds" tour - a Web 2.0 experience which requires a certain amount of thumb-twiddling while the file downloads: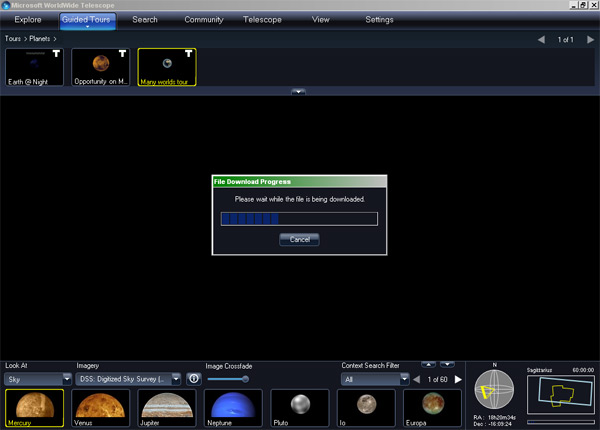 The result? Absolutely nothing, save a brief burst of music and a pretty well black screen.
We'd have liked to address this inexorable blackness of screen issue but by this point WorldWide Telescope had reduced the PC to a crawl and the mobo's fan was spinning so fast there was a danger it might tear a hole in the space-time continuum.
Quite what the problem is, therefore, we know not - possibly a conflict between DirectX and some hitherto unknown Web 2.0 subatomic particle (the Gates Bozo?).
If we can pinpoint the anomaly, we'll get back to you. In the meantime, you're on your own out there in the Microsoft universe. ®