Adaptec makes low-end RAID gear ROC hard
Series 5 begat Series 2
---
Adaptec is launching a new line of entry-level unified serial RAID controllers today, using the revamped design of its top-tier Series 5 gear announced in March.
The Series 2 controllers can handle hardware RAID 0, 1, and 10 for SAS and SATA disk arrays, as well as tape drives using SAS expanders.
The devices run on a 800MHz dual-core RAID-on-a-chip (ROC) semiconductor design, improving the previous architecture of a separate CPU and I/O controller linked by a bridge. This configuration has been scaled down from the Series 5 controllers.
Adaptec reckons ditching the software RAID solutions commonly offered in entry-level systems for hardware RAID provides superior performance and configuration options, all independent of the operating system. It also claims better support for open source drivers and "no vulnerability to viruses."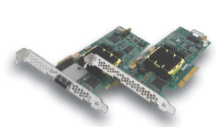 The controllers have 128MB of DDR2 cache and support up to 128 SATA/SAS I/O devices. Throughput at each drive port is 3Gb/s.
Adaptec's new lineup is composed of two controller models.
The Adaptec RAID 2405 has four internal ports, one SFF-8087 internal connector, and costs $225 (~£116).
The 2405 controller is also sold with a fanout cable included as a "kit" for a $25 premium.
The Adaptec RAID 2045 has four internal ports, one SFF-8088 external connector and sells for $250 (~£129).
Supported operating systems include Windows XP, Windows Server 2003, Windows Server 2008 Vista, Red Hat Enterprise Linux, Suse Linux Enterprise Server, SCO OpenServer, UnixWare, Sun Solaris 10 x86, FreeBSD, and VMware ESX Server. A full list of what systems are supported is available here.
The Series 2 controllers will begin shipping by the end of this month. ®