If you think Wii Fit is too physically taxing, then you'll be glad to hear that Atari has developed a simpler version.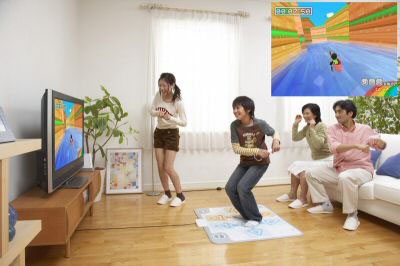 Atari's Family Trainer: a simplified Wii Fit
The basic concept behind Family Trainer is similar to Wii Fit, but rather than a step-on board, Atari's version uses an interactive floor mat. Hopefully, the mat won't slide around during a madcap exercise game session.
You, mum and dad can each exercise separately or together through several virtual outdoor challenges, including river rafting, log jumping and the ominously named mine karting. Each activity is also set against a series of backdrops, ranging from haunted mansions containing zombies to jungles filled with ancient ruins.
It doesn't sound as though Family Trainer will be as advanced as Wii Fit though, so don't hold your breath for an annoying little character that tells you how fat you are each time you play. However, the Atari videogame does still allow players to track their progress and set records.
Atari's Family Trainer will be released on the Wii in Europe this September, but a price hasn't been worked out yet.
Sponsored: Ransomware has gone nuclear