Chinese nanojewellery experts have managed to fashion an exceptionally tiny ring out of just 36 atoms of gold. Incredibly minuscule as the golden nano-ring is, however, it is in fact the world's largest of its type.
Brainboxes Shu-Yan Yu, Yi-Zhi Li, and Vivian Wing-Wah Yam - working at universities in Beijing, Nanjing and Hong Kong respectively - publish the details of their revolutionary nano goldsmithing accomplishment in the current edition of German journal Angewandte Chemie.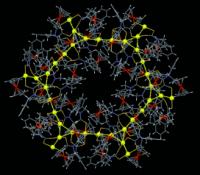 The biggest extremely small gold ring ever.
According to the accompanying statement:
The lords of the ring... report their unusual compound... the molecular ring structure is held together exclusively by gold–gold bonds and is thus the largest ring system made of gold atoms produced to date.

Large molecular rings have fascinated chemists for over 40 years — ever since the discovery of crown ethers in 1967.
It seems that early ring boffins won the Nobel Prize for their efforts, and that metallic circlets of this type could be very handy for "functional materials and nanotechnology". However, previous gold-gold rings maxed out at just 16 atoms. The new 36-atom model is thus very much the big daddy of univalent nanoscale wedding accoutrements.
Apparently the sticky-out atoms (see pic) alternate between skewing up and down with respect to the plane of the ring itself, which has led some to dub constructs of this type "crowns" - but in fact this would seem to indicate rather a sort of circular tripod stand for an unfeasibly nano-dwarfish vase.
One thing's for sure - in theory if not in reality, this is still one of the cheapest gold rings to be had. Read all the details from Angewandte Chemie here (subscription). ®