Review Ever wanted to combine the convenience of digital music with decent sound and build quality? Then say hello to your new best friend, the JB7 Micro Jukebox. This tactile and user-friendly bit of kit delivers both with aplomb.
Right from the start, we could feel this was a class piece of kit: well built, reassuringly heavy and sporting a really attractive electric blue and battleship grey livery. The unit can be plumbed into a hi-fi, but also you can choose some very acceptable Brennan-branded speakers, which also felt reassuringly solid, with really hardy, spring-loaded cable grips at the rear.
The only thing slightly letting all of this down was the quality of the cables supplied, which didn't quite live up the feel of the rest of the kit.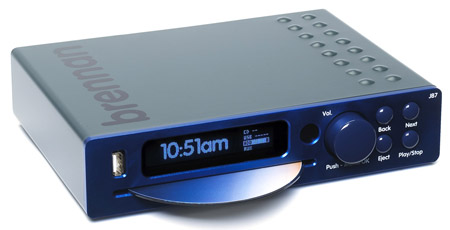 Brennan's JB7 Micro Jukebox: class
Basically, the product is a hard drive which stores, sorts and plays back music garnered from the your CD collection, or transferred from a personal MP3 player or USB stick. Three versions are available - 40GB, 80GB and 160GB - and a big plus is that the player will store tracks at 128Kb/s, 192Kb/s, 320Kb/s or with no compression at all direct from a CD. To give you a feel for the capacity, the 80GB model can store 22,000 tracks at 128Kb/s or 9000 at 320Kb/s.
We decided to go for the jugular, slammed Live and Dangerous by Thin Lizzy into the JB7's CD slot, selected no compression, and stood back.
The beast sprang immediately to life and a little over four minutes later we had the files captured. Now, Live and Dangerous is a long album - many of its 18 tracks come in at well over four minutes - so this was a pretty good performance at zero compression. We pressed play and an even more pleasant surprise was waiting.
The machine sings like a black bird on a spring morning. The unit's built-in pair of 30W amplifiers deliver a clean, bouncy, crisp and deep sound stage. There are loads of crowd noises and bits of atmosphere on this album that would just be lost on a less accomplished player, but the JB7 spots them all and spits them out at you with real confidence.

Bootnote
The JB7 was designed by Martin Brennan. Fans of the 8-bit computing era may recall Brennan was on of the developers of Sinclair's ill-fated 'Loki' computer, a project killed when the company was bought by Amstrad.
Brennan later moved to Atari, where he developed the unreleased Panther games console and its successor, the Jaguar, which did make it to market.