Triumph eco-bra brings Reg editors excuse to publish pants pic
---
The Japanese wing of ladies' pants purveyor Triumph opened its kimono this week to expose a hi-tech set of undies that'll charge up your missus' Eee PC while "arousing" everyone else's interest in matters environmental.
Equipped with a solar panel, the green - what else? - bra is accompanied by a fair of equally grass-coloured briefs, as you can see here. According to Triumph Japan, the one-off two-piece is composed of organic cotton free from harmful substances.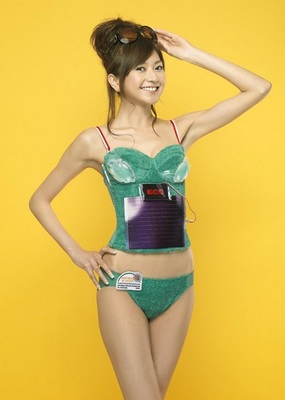 Arousing interest in green issues
Each cup has affixed to it a small "mini bottle" which we originally presumably was for the "sports drinks" or other "favourite beverage" the Google-translated description mentions, the fluid kept on hand to offset the effects of the sun and "sweaty body hydration".
But no, further down we read that they're used to "adjust the amount of the contents of the volume bust-up body functions". Safer than silicone, we suppose...
Don't expect to see the garment in the shops any time soon, so you can scratch it off the birthday/Christmas/Valentine's list. Triumph put together the set to encourage people to do more to conserve energy. Not that we expect any of you lot to have read this far, in any case...