Vye mini-v S37B sub-notebook
The people carrier of the sub-notebook world
---
Review The Vye mini-v S37B is another player in the increasing number of sub-notebooks appearing on shop shelves, spurred on by the runaway success of the Asus Eee PC.
However, where the Eee is a little compact runaround, the mini-v aspires to be the seven-seater people carrier with the collapsible seats and all the bells and whistles.
The S37B's most obvious attribute is its 7in, 1024 x 600 touchscreen mounted on a swivel which allows the S37B to be turned into a tablet PC. The little laptop also includes a 120GB hard drive, compared to the 4GB of solid-state storage found in the Eee.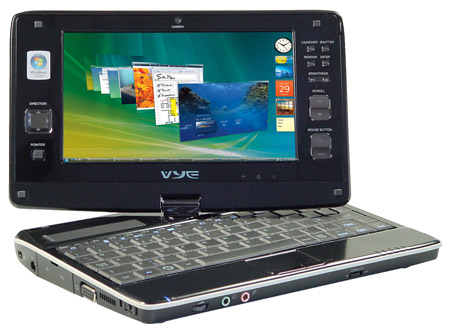 Vye's mini-v S37B: challenged by Vista
At first glance, the device looks a little cheap and plasticy but once you have it on your hands the build feels solid, and the swivel is well made and should withstand some punishment.
Although the S37B is more powerful than the Eee PC 701, like most people carriers it's a little underpowered for the job it's trying to do. It packs in a single-core 800MHz Intel A110 processor, the predecessor to the 'Silverthorne' Atom and essentially and old Pentium III.
To that add 1GB of 400MHz DDR memory which, when the makers shoehorn Windows Vista into this little device, means it starts to feel a little clunky when you try and run more than one or two apps at the same time.
Trying to run the Vista interface on the integrated graphics core built into the S37B's Intel G945 chipset doesn't help either. It's got access to just 64MB of that 1GB memory. It does the job a lot better than you might expect looking at these specs but we can't help but think that Vista was a poor choice of operating system on Vye's part.