The S37B has a decent array of ports, including VGA; SD/MMC/MemoryStick and CompactFlash memory card slots; and two USB ports, one of which is located behind a cover alongside the 10/100Mb/s Ethernet port. Although two USB ports should probably be enough most of the time, any time a user wants to connect an external drive and a mouse and/or keyboard, that's all the available ports gone.
Some models come with a built-in antenna and TV tuner - perfect for telly on the go. 802.11b/g Wi-Fi and Bluetooth 2.0+EDR come as standard.
Where the mini-v does really start to shine is in tablet mode. Unlike most tablet PCs, which need to be driven entirely by the stylus, there are a set of controls around the screen that can be used to navigate and control the device without needing to dig out the stylus every two seconds.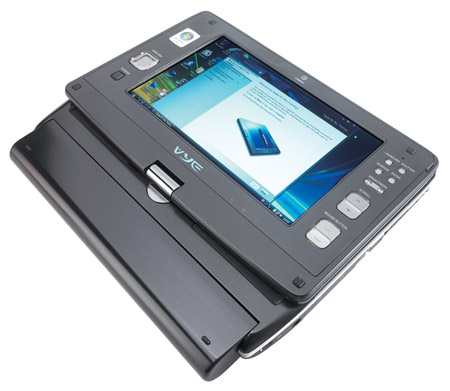 Takes off in tablet mode
There's a small nub for controlling the mouse pointer, and a direction pad which acts the same as the cursor keys on the keyboard. There's an Enter button, and dedicated keys for scrolling.
Above these is a user-definable Launcher button and another marked Shutter, which fires up the 1.3-megapixel webcam. A rotation key that allows you to easily flip the orientation of the display - perfect for when switching between tablet and notebook modes. These extra controls combined with the usual tablet features such as a freeform notepad, handwriting recognition and soft keyboard make the whole thing very easy to use.
The screen is pretty decent and can be seen in most lighting conditions. When calibrated properly, the touchscreen is suitably accurate. The handwriting recognition is impressive too. About the only annoyance is that there is no detection of unexpected taps. This means that should you accidentally touch the screen with your pinky while writing with the stylus strange things can happen.