Medion, Europe's prime purveyor of low-cost PCs, phones and satnavs, is taking on Asus' Eee PC. Its Akoya sub-notebook will come in MacBook-like shiny black and white versions, sport a 10.2in display and cost just €399 ($620/£318).
Medion hasn't detailed the Akoya's processor specifications, but Intel's Atom has to be the most likely option. The mini laptop will come with 1GB of DDR 2 memory, Medion said, and an 80GB 5400rpm hard drive.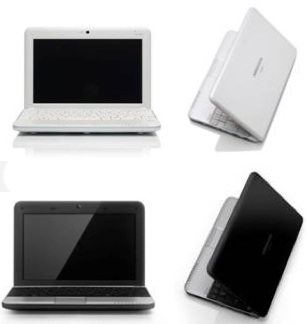 Medion's Akoya E1210: battling the Eee
The sub-notebook's portage runs to a trio of USB 2.0 ports, 10/100Mb/s Ethernet, VGA, 3.5mm audio I/O sockets and a Kensington security hole. In addition to wired networking, the Akoya comes with 802.11n Wi-Fi on board, and Medion said buyers will also be able to spec up a version with Bluetooth.
Other options include an external optical drive and a six-cell battery to complement the standard, three-cell one. Standard battery plus laptop together weigh 1.2kg, and the whole lot measures 247 x 179 x 28-36mm.
The display has a native 16:10 ratio resolution of 1024 x 600.
The unit comes with a two-year warranty and Windows XP Home Edition - which Linux lovers should have no trouble deleting and replacing with their favourite distro.
Related Sub-notebook Reviews
Vye mini-v S37B
Asus Eee PC 900
Apple MacBook Air
Toshiba Portégé R500
Maxdata Belinea s.book 1
Asus Eee PC 701