Royal Bank of Scotland takes three weeks to squash nasty Worldpay bug
Amateur security sleuth spurned
---
Updated This story was updated to reflect that the vulnerability has yet to be fixed and that RBS responded to an amateur security researcher's email. A previous version erroneously reported the security hole had been closed and that the bank never sent a reply.
After more than three weeks of notice, Royal Bank of Scotland has yet to close a glaring vulnerability that could allow miscreants to create convincing spoof pages that siphon customers' login credentials.
Like a similar pox that visited the house of PayPal last week, the cross-site scripting (XSS) bug on RBS's Worldpay.com service resides on a page protected by Secure Sockets Layer (SSL), which lulls some users into the mistaken belief it can't be tampered with.
Think again. Reg reader and amateur security researcher Adam Gritt discovered the hole last month and quickly realized it allowed him to inject custom javascript code that would intercept data users had typed onto a sensitive Worldpay page.
"I have tested this and confirm that unfortunately it does work on the live Worldpay website," Gritt wrote in an April 29 email to RBS. "Potentially, a fraudulent website could send the user to the Worldpay website in order to pay for their purchase, with ALL of the credit card details being then sent back to the hacker's server."
Despite including an ample amount of technical detail and a screen shot that demonstrated the vulnerability in action, Gritt received only a terse response that said: "We are in the process, not only to comply with PCI-DSS, to remove the option to use any (cross-site) scripting on the WorldPay payment pages." As of Wednesday, May 21, the defective page remained live.
"We have since reviewed our approach and changes are now being effected and will be in place later today," an RBS spokeswoman said Wednesday.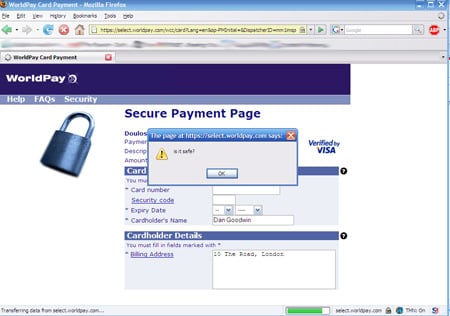 Is it safe? Probably not.
You'd think that RBS, as the world's fifth biggest bank, would have a mechanism in place for responding more quickly to reports like Gritt's, but this experience suggests otherwise. So for the time being, The Register is happy to bring these defects to the attention of those responsible (tips here, please.). Yeah, it's a messed up job, but somebody's got to do it. ®
Update
RBS has closed the hole.