Bush tests Castro with mobile phone gift barrage
Let freedom ring — oh hey, it's polyphonic
---
Americans will soon be able to send cell phones to Cubans, President Bush announced today.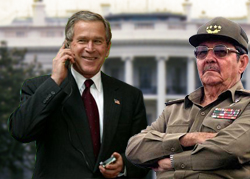 Does this bother you? I'm not touching you.
The move is apparently meant to be an experimental prod at Cuba's President Raul Castro, who has relaxed a number of restrictions on consumer electronics since replacing his brother Fidel in February.
"Cubans are now allowed to purchase mobile phones, DVD players and computers, and they have been told that they will be able to purchase toasters and other basic appliances in 2010," Bush said at a White House ceremony marking Cuba's 106th anniversary of independence.
Despite Cuba recently lifting its ban on mobile phone use by its citizens, the cost remains upwards of about six times the average monthly salary.
Bush said today that it's the "height of hypocrisy to claim credit to allow Cubans to purchase appliances that virtually none of them can afford."
"If he is serious about his so-called reforms, he will allow these phones to reach the Cuban people," Bush said.
But don't regard it as a change in the US policy towards the island, cautioned Bush administration officials.
Dan Frisk, National Security Council senior director for Wester hemisphere affairs told the Associated Press that the US government is not loosening the longstanding economic embargo against Cuba. He said the move is a merely change in regulations for gift parcels, and the administration will be watching to see if Cuba allows the cell phones to enter the country. ®