The General Atomics Predator-B drone aircraft - better known under its US Air Force name, the "Reaper" - has just dropped its first satnav-guided weapons. In a doubtless unrelated development, the roboplane also seems set to deploy along the US-Canadian border.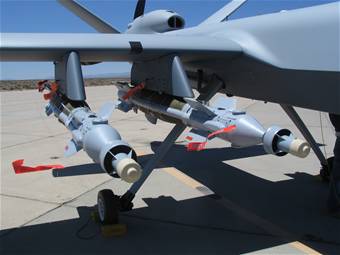 Mowing down humans like corn regardless of weather.
The US Air Force announced this week that Reapers from the 658th Aeronautical Systems Squadron had lately made the first drop of satellite-guided weapons by the roboplane, at the China Lake test range in California. The munitions in question were 500-pound smartbombs, able to fly themselves down to a target on GPS.
Reapers normally shine a laser dot on the desired impact point to guide their weapons, but such systems occasionally struggle to cope with cloud, fog, snow etc; that's where the satnav comes in.
Often the killer robots will know where their human targets are even through this kind of obscuration, perhaps by using their man-tracking groundscan radar or tracking their victims' mobile phones, but until now poor weather would prevent any actual reaping. That's not usually a concern over Afghanistan, of course.
But apart from military service, Reaper aircraft are also used for patrolling the borders of the US. Thus far, this has mainly involved the southern border with Mexico. However, last week US Air Force general Gene Renuart - chief of US Northern Command - told AP that America also plans to send its crewless aerial armada northwards.
"The Arctic is a new area that is important to us," said the general, saying that retreating polar ice could mean increased activity in the far north. "All of this has implications .. there could be security concerns."
But he added: "There's some extensive work that has to be done with the Federal Aviation Administration and Transport Canada". ®
Similar topics