Just when you thought compact camera features couldn't get much dafter – smile detection, anyone? - along comes Fujifilm with a camera sporting a feature dubbed… ahem… "Timer in Love".
The feature won't find you a date, though, because it's actually a form of face detection that the manufacturer claims enables the Z200fd camera to start a self-timer mode when it detects two faces coming together for an old fashioned smooch.
According to Google's translation of Fujifilm's Japanese description, there are three Timer in Love settings – one for a friend, another for a good friend and then a mood mode for love. Presumably, the camera only takes a snap when two faces are almost locked together in love mode, while it may allow for a little more facial separation when in friend mode.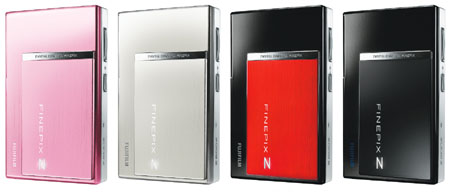 FujiFilm's Z200fd: good at spotting crafty puckers?
Other face-detection modes are available. However, they aren't based on the distance between faces, but can recognise up to ten people.
If you're not loved-up or heave at the thought of public displays of affection, then the Z200fd is still a pretty good snapper, sporting a ten-megapixel sensor and 5x optical zoom, with a top ISO sensitivity of 1600.
The 2.7in LCD display should be ample for viewing your recently snapped kissing-couple images, that's until you get back to your love nest and whip out the SD memory card so you can use the pictures as the screensaver on your joint laptop. If you'd rather put your photos in a frame, then NEC's heart-shaped LCD would be the perfect accessory.
As with most compact cameras, numerous pre-set photo conditions can be called upon, including snow, sunset beach and the rather curious "museum" mode - presumably for when you're bored of each other's company and spend Saturdays aimlessly wandering the Natural History Museum.
A nice bonus is that the Z200fd can also capture video at up to 30 frames per second.
FujiFilm's Z200fd will be available in the UK later this month in a choice of pink, silver, red and black or black bodies. A price hasn't been confirmed.