This article is more than 1 year old
Logitech Z Cinema advanced surround sound system
Put your PC's audio on a course of steroids
Review Is Logitech's answer to the demands of a media-centric PC world the next logical step in home entertainment - or just more boxes to knock over or spill stuff on while working at the computer?
The basic premise is simple. We are all storing and viewing loads more stuff on the PC: music, film, TV and, of course, games. The problem is, many people are listening to the playback on speakers that wouldn't be out of place in a child's walkie-talkie.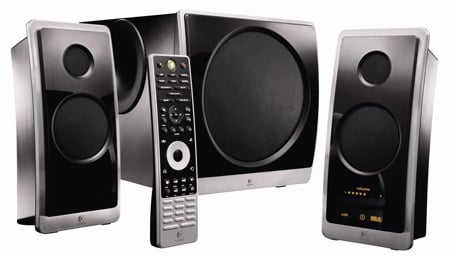 Logitech's Z Cinéma: laser tuned drivers
Logitech hopes to come to the rescue with a really meaty sound package that not only delivers great sound, but interfaces directly with the PC's operating system rather than its analog audio ports. And to a large extent the manufacturer has succeeded.
Set up is very simple: plug the sub-woofer into the power, the speakers into the sub-woofer and then the computer to the sub-woofer with the supplied USB cable and you are almost ready. A quick spin of the software disc later and we were ready to rock within about five minutes.
The first thing to note here is the quality look and feel of the speakers. The Z Cinéma system combines a brushed aluminium bezel, high-gloss black thermoplastic faceplate and perforated aluminium speaker grilles.
But the system has got guts as well as looks. It boasts a total output of 180W (RMS) and is powered by a three-amplifier design with a digital crossover equalizer.
The system has on-board hybrid Class D and Class AB amplifiers, and Logitech reckons the Z Cinéma set is particularly good at reproducing sound whether it be in the high, mid or low frequencies. Each amplifier pushes out an independent, digitally equalized signal that is designed to minimise distortion and create a broad sound-field, the better to cater not only for the user sitting right in front of the screen but for folk sitting a way away from it too.