This article is more than 1 year old
Facebook poked by XSS flaw
Social spamming
Updated Facebook has fixed a cross site scripting flaw that left its users at risk from scripting attacks.
Security blog xssed.com has posted a harmless proof of concept demo of a flaw on the social networking website that could leave surfers vulnerable to malware. Attacks that trick users into handing over their credentials through fake logins served up from third party sites are also a potential problem.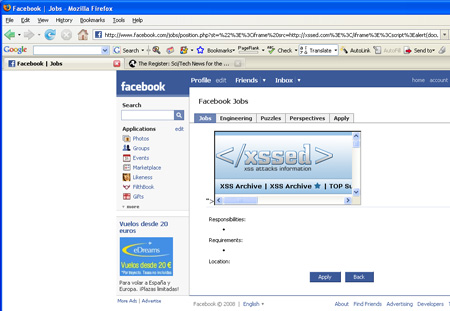 Facebook plugged the hole on Friday evening. In a statement the social networking website downplayed the seriousness of the flaw.
"For a brief period of time, Facebook experienced a technical issue that affected the user interface on Facebook's Jobs page. All settings remained intact and no new information was exposed. The problem has since been resolved," it said.
"Facebook is committed to user safety and security, and encourages users to not click on suspicious links posted on their profiles and only log in to Facebook from pages in the facebook.com domain."
Warnings of the flaw (which is far from the first of its type to affect Facebook) come as security watchers say that malware authors, spammers and scammers are paying increasing attention to social networking websites. Network security firm Sophos, for example, detected a 419 scam email on business-focused social networking site LinkedIn earlier this week.
Both Sophos and rival firm Clearswift reckon that advance fee fraudsters are turning to LinkedIn because spam filters are getting better at blocking conventional email pitches. The LinkedIn scam message poses as an "appeal for help" from a 22 year-old woman living on the Ivory Coast who has supposedly inherited $6.5m from her father - a fairly standard opening lure for such scams.
Pete Simpson, ThreatLab manager at security firm Clearswift commented: "This is a perfect example of the growing number of scams using social-networking sites to bypass email filters and target end-users directly - a trend we're likely to see more and more of. Not only do scams distributed in this way get directly to the end-user without being blocked, but there is also a higher chance of the victim falling for it, as it may appear to have come from a trusted source." ®