Illinois gal gives Street View an eyeful
Privacy these, big guy
---
NSFW It appears that while some people are increasingly concerned that Google's entertaining Street View might visually rape their swimming pool or lay bare their military secrets to black turbans and other jihadist riff-raff, the residents of Illinois have a rather more relaxed attitude to privacy.
The proof comes in the twin forms of this gal south of Chicago, who decided the best way to confront the search monolith's prowling black snoopvan was to give its multiple eyes an eyeful: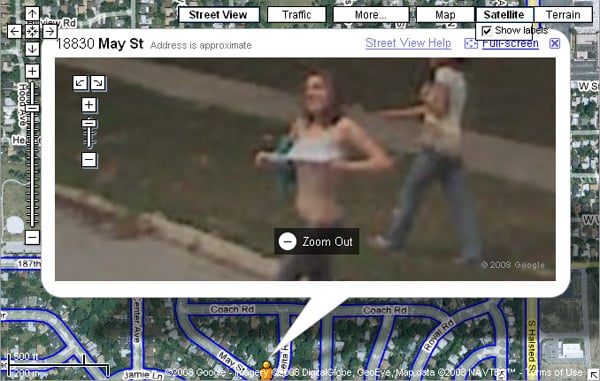 Good show, although in its haste to record every inch of planet Earth, the marauding spytruck failed to capture the full reveal.
No matter, because we suspect that as the Street View motorised tentacles extend across the globe, the sport of "Flash your Googles" will become increasingly popular. Watch this space for further revelations. ®
Bootnote
Thanks to Darren Singleton for the top-off.