This article is more than 1 year old
Welcome to Las Vegas - Home of the technology superpower you've never heard of
Rob Roy seizes Enron's busted dream
After being led down a hallway - God, everything here is painted red, gray or blue - I went into the meeting headquarters.
The conference room was almost intimidating. The lights were dimmed, which provided an ominous aura for the thirty black leather chairs filling up the space. I kept expecting Darth Vader to spin around for a grand reveal. The room also had a number of tables made out of ladder racks and brushed aluminum, which I'm told that Switch designed itself. Then, there were screens and some more screens - the largest of which had a paused video of the SuperNAP.
Switch's attention to things like the custom tables carries throughout the complex. Even the bathroom has backlit sinks with webby, Spiderman like designs. "I just washed my hands and am now full of Justice."
Given Switch's penchant for flair, it again seems surprising that the company has denied overtures from the press. But this is all for the customers - part of the show meant to convey that Switch means business.
The King of Co-Lo
Roy eventually seemed to warm up to me, moving progressively closer to the recorder, as we spent close to three hours together in the facility. I even weaseled my way into some personnel details.
He and his younger brother grew up in Wisconsin. When Roy was 12, his father was paralyzed - a devastating injury that Roy described as being similar to actor Christopher Reeve's condition. Roy's father decided to obtain a computer science degree from the University of Wisconsin, using a dumb terminal to do the work from his home. This left Roy needing to help with tasks such as holding books, turning pages and listening to lectures.
"You're sitting there in every meeting," he said. "I grew up just being very involved in the whole process. I think I have been 30 since I was 13."
Mike Borden, Roy's brother, is President of Switch, and the different last name reflects "a difficult divorce between our parents" that Roy preferred not to discuss.
As the years went by, Roy shifted away from this early interaction with computer science into commercial real estate, moving to Las Vegas during his twenties. Eventually, he ended up getting into the co-location business, where a company will host servers and storage systems for other businesses.
An early incarnation of Switch was already up and running when Roy caught wind of the Enron facility across the street that was going up for sale.
"Enron wanted to expand from trading energy," Roy said. "They wanted to use the same type of conceptual algorithm and go trade bandwidth."
The ever overzealous folks at Enron poured millions of dollars into creating a single facility that would serve as a hub for all the major US carriers. Their pipes would funnel into the Enron building, and Enron would move bandwidth around like a commodity.
"I don't think that was ever going to be real, but they thought it was," Roy said.
Las Vegas will not jump out as the likely spot for such a hub to most people. The city, however, presents certain advantages over places such as New York, Los Angeles, Atlanta, Dallas or Silicon Valley. There are almost no natural disasters that threaten Las Vegas. The city has cheaper power and real estate than other major cities. There are tons of flights going into Las Vegas, making it easy to do business. And, as Roy says, "No one lives in Nevada. So, you don't have locals pulling on the bandwidth."
Enron had already built a lot of the infrastructure needed for its facility and brought the major carriers on board just as its business started to collapse. So, the broadband center went up for sale.
"We were the only ones that bid on it," Roy said. "It should have been the $200bn companies that owned it. We got it for a Cinderella story type of figure."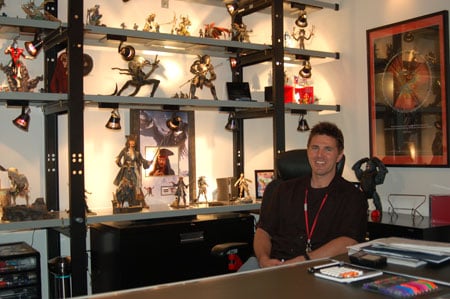 Rob Roy's Fun Filled Office
And other folks back up Roy's take on the situation.
"More people should have bid on the Enron Super POP auction," Sun's McNealy told me. "I think they got a steal there."
It should be noted that there seems to be some dispute over who bought what from the Enron facility. One contact tells me that the Enron network actually went to Wilhagan Ventures, which now operates the system as WVFiber. And, in fact, there are a number of stories noting that Wilhagan did buy the Enron assets during bankruptcy proceedings to fuel a nationwide fiber backbone.
It's more difficult to dispute what Switch actually offers to customers, which is access to the networks of companies such as Verizon, AT&T, Sprint, Cox, XO, Qwest, Time Warner, Global Crossing and Level 3 from a single location. You can see the full scope of the operation here. The end result is that Switch can provide bandwidth to customers on a scale that rivals the major hubs in New York and Los Angeles.
According to Roy, this gives Switch some unique advantages as far as pricing and capacity go. The company can underbid more expensive facilities in California and create more competition among the carriers.
"We built this huge valve system, and we plug all the carriers - 10 and 40 gig - into our big gateway," Roy said. "Our biggest customers are saying we are selling space to them at 44 per cent less than all of their connections. And my agreements are not just about Vegas. I can order a link in Germany cheaper than anyone else can.
"I can do this because we have some of the world's biggest companies looking to get into the SuperNAP. And the carriers are hearing about this and seeing the volume of bandwidth these customers want. And I can go and price out that bandwidth with a bunch of different carriers. So, carrier X comes and says, 'Okay, we'll play ball.'
"You know, you can take wholesale, and we're 30 per cent below that. We are just alone in a very unique spot in the world because of the Enron building. We have clients that come in and save more on connectivity than they pay for the entire data center in a month. So, it almost makes their data center free."
I told you he was proud of the network, right?
Ah, but that's just where the fun begins.