This article is more than 1 year old
Welcome to Las Vegas - Home of the technology superpower you've never heard of
Rob Roy seizes Enron's busted dream
Look! There in the desert! It's SuperNAP!
The networking operation has helped Switch carve out a significant place in the Nevada technology landscape, but it's the SuperNAP that threatens to take the company global.
Switch has spent years banging away on a data center design that runs contrary to conventional thinking. Most large scale data centers utilize raised floors where cold air is pumped through holes in the floor and picked up by servers and storage systems. This type of architecture often results in the top parts of the computing systems getting very hot. So, companies have developed all manners of weird contraptions ranging from liquid cooling systems, heat socks and even data center robots that seek out warm spots to try and avoid concentrations of warm air.
By contrast, Switch has created its own system called a T-SCIF (Thermal Separate Compartment in a Facility), which lets Switch abandon expensive raised floors altogether.
You basically back a server or storage system into the T-SCIF container and create a seal that separates the cool air pulled in by the front of the system from the hot air exhaled from the rear of the system. Unlike most data centers, Switch does not need to deal with intermingling cool and warm air. The hardware receives only cool air, while the hot air travels out through ducts above the T-SCIF. This design lets Switch run servers at full power and allows it to stack as many systems as possible into a given space whereas many data centers must avoid filling up racks with hardware because of heat and power concerns.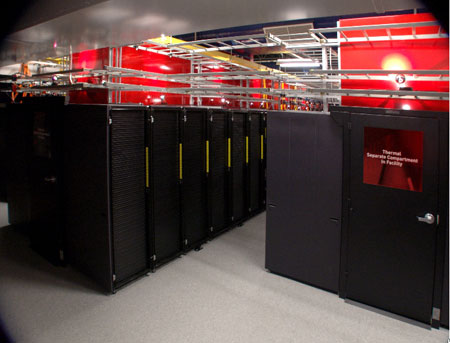 Meet T-SCIF
(For more on the T-SCIFs and the SuperNAP design see this story.)
The SuperNAP will make use of the T-SCIF approach on a grand scale.
The $350m facility will stand as one of the largest data centers on the planet. It will rival anything being built by the likes of Microsoft and Google, which often say that their new centers cost about $500m a pop. Roy, however, believes that he can stack four times as much gear as those companies do in his center.
Switch is bringing in 30 cooling towers and its own power station to fill the SuperNAP with 7,000 cabinets of hardware and 1,500 watts per square foot of energy. All told, the SuperNAP will chew through more energy than three mega casinos. And Switch has room for four SuperNAP-sized buildings on the land that it owns.
While the scale of the center is impressive, it's Roy's ambitions that prove more remarkable.
Rather than selling space in the SuperNAP to a handful of clients, which he could probably do, Roy wants to divide the building up among a number of the world's thriving businesses that operate in various fields. Roy seems to see himself as a type of rainmaker for the internet age, bringing together disparate parties to create digital happiness.
Roy talks about linking the major casinos with the major content providers and carriers to make IPTV a reality. Only a company such as Switch with the bandwidth, data centers and connections could get all these folks to agree on a shared agenda, Roy says.
"This building will be the first super-scale data center where all the new technology in the world merges and therefore creates a better layer of technology than anyone else has been looking at," he said. "I can make this work because I can do things no one else can."
A man must dream big, right?
Today, organizations turn to Switch for black-ops projects, spam filtering of the most serious proportions, utility computing projects, data warehouses at casinos, modeling, online games and old-fashioned e-commerce. Roy wants to convince these clients to keep their most cutting-edge projects at Switch and then wants to work as a go between, telling the various clients where they can help each other out rather than duplicating effort.
This will strike many of you as fanciful talk. Although, as Roy described his vision, I was reminded of Samuel Insull, who created what amounted to the first true electricity grid in Chicago by pulling in customers of different stripes to keep his generators humming away all day and night. By achieving this scale, Insull could lower the price of electricity and make it more feasible for companies to abandon their own power systems.
Could it be that a figure like Roy will be this generation's Insull and actually deliver a utility computing infrastructure? Such an idea seems almost more likely to me than a company like Google, Microsoft, Amazon or IBM pulling it off given Switch's rather more neutral role.
Then again, maybe Roy talks way too big.