Enter iTunes
In bubbleworld, consumers are so delighted with having four million tracks in one software application, and being able to make playlists for themselves and maybe listen to pre-programmed streams, that they can no longer see why they would ever want to 'own' music. (The music industry has always told them they don't own music anyway - Todd Rundgren once referred to a CD as a 'licence to listen in the form of a plastic disc'.)
2002 saw the launch by the record labels of a brace of subscription services that would later make PC World's Top Ten Worst Tech Products of All Time, MusicNet and Pressplay (the surfacing of the Sony/Universal Duet deal). Outside of bubbleworld there are iPods, and CDs and loads of MP3s; imagine a small underpowered horse behind a large motorised cart.
The cart was just getting warmed up. The iTunes store was launched in 2003, and just five years later is now the biggest music retailer in the US. But strangely it never looked like a muddy puddle to the strategy execs. Perhaps it was too simple, offering 'buy to own' at a fixed price. iTunes' launch year also saw the beginning of the ringtone sales curve hockey stick.
Heave, flop.
Someone who made a lot of money out of it recently told me that in his view the record company strategists had entirely misunderstood the nature of the ringtone market. He said, it's 'bling' - cheap jewellery, not music.
Mobile: Always the next big thing
One of the interesting features of the evolution of digital music is how the optimistic forecasts spring up like desert flowers after the rain of a strategic shift. A cynical observer might think that those strategists were using their research budgets to support their pre-conceived notions rather than to test them.
Quoting them were those very record company strategists who only months before had been investing their credibility in PC subscriptions, tethered or 'to-go'. Now they hit the conference circuit, waving their complimentary mobile phones at audiences.
By now, anything which looked even remotely incremental was being called a 'lifeline' by the analysts and journalists, and mobile fitted the bill. But after almost a decade of generating strategies, and watching the internet music investment boom and bust, a weariness seemed to be setting in.
Thus it was perhaps that most mobile action in the middle of this decade amounted to a bit of licensing, and an expansion of the number of SKUs that went around a record release. Only Amp'd Mobile in the US could really be characterised as a big bold bet with an investment from Universal Music Group, the largest of the majors. The trajectory of the recording industry's belief in mobile can be tracked by proxy in the fortunes of a small French company called Musiwap.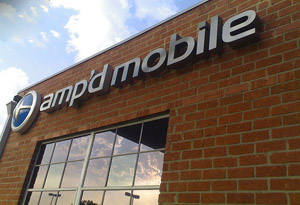 Recently-defunct MVNO, Amp'd Mobile
Musiwap started doing local deals in 2001, found investment and became Musiwave in 2002, got bought by Openwave for $121m in 2005, and was sold by Openwave to Microsoft in 2007 for $46m. Amp'd declared itself bankrupt in 2007, having munched through $360m.
Of course while none of the strategic geese have shipped gold, none has gone away either, and each has been assimilated into normal business for the recording industry. And that will no doubt prove to be the case for the next puddle - advertising-supported music.