Ad-supported music
It would be very gratifying to be able to say that this rise in expectations for advertising cash was a mature response to new marketplace evidence that some of the new entrants to consumer music services were actually delivering revenue in convincing quantities and in a scalable manner. But I can't, because they're not. Most have yet to launch in any significant way.
Accenture recently released its yearly survey of top content execs, and about two-thirds of them are looking to advertising to drive the funding of content creation. That's up from the 50 per cent that said the same in 2007, and the 40 per cent in 2006.
But the warning signs are already apparent.
In case anyone missed it, Pandora, an ad-supported music service, turned off its UK service in January. Pandora complained that it could not generate enough revenue to pay for the music. Lime Wire seems to have come up with an ingenious advertising scheme, which involves selling contextual search advertising to the very people whose rights are being infringed as a result of those queries.
In an ad-supported world, the people who pay indirectly for your music are buying the scraps of attention an intermediary can sell them when you search for or listen to Death Cab For Cutie, for instance. Even the mighty Google hasn't managed to monetise that phrase in its general search offering, Adsense, and in its music channel shows an unconvincing Amazon ad offering 'Low prices on death for cutie.' Notice the circularity?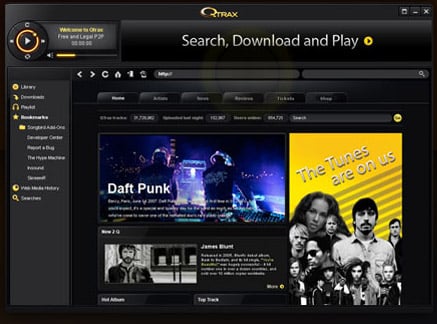 QTrax offers free, ad-supported music downloads
But even if you could break out and get music fans paying attention to financial services or cars, at current rates anything between 500 and 1000 impressions (streams or downloads) would be needed to return the same revenue as one paid-for track.
But with record companies making strategic investments in a new crop of on-demand music websites none of which has a working revenue model, brace yourselves for the next big flop. ®
Paul Sanders is a founder of Playlouder MSP, the world's first ISP licensed for music file-sharing. He is also a founder of the state51 conspiracy, an independent digital music distributor, and founder and director of strategy at Consolidated Independent, a digital media technical service provider.