This article is more than 1 year old
Aussie droid planes in Barbados hurricane probe
Sky-spy to eye eye of storm
American weather boffins plan to send more unmanned aircraft plunging deep into the 2008 crop of Caribbean hurricanes, in a bid to find out more about the deadly rotating storm systems.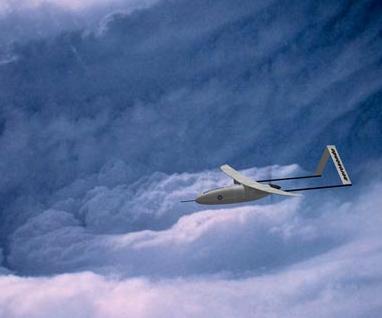 When the going gets tough, the robots get going.
©Jon Becker, Aerosonde Pty Ltd.
This year will see as many as five drone probes from the National Oceanic and Atmospheric Administration (NOAA) heading out on perilous eye-of-the-storm missions. The programme has something of an international flavour, however. The droid planes are actually from Australia, and will fly from Barbados rather than American territory. (The US FAA don't care for unmanned planes near hurricanes in US airspace, apparently.)
NOAA met-boffin Joe Cione reckons the drones' ability to fly through the eye of a hurricane at 300 feet will easily trump conventional manned overflights at 10,000 feet - even where these release "dropsonde" instruments which fall through the storm.
"It's the difference between taking a photograph and taking a movie," Cione told Reuters. "You're not going to miss anything... That area of the storm is critical because that's where the maximum winds are. It will give us a better understanding of where the energy is extracted out of the sea."
Cione and the NOAA believe that the interactions in which energy is transferred between the sea and the storm are key to predicting what will happen next - and thus, perhaps, to avoiding future Katrina-style disasters. Their new 9-foot wingspan "aerosonde" droidplanes can fly 2,000 miles on a single tankful, and have a satellite datalink for control and for relaying atmospheric readings. The machines cost $50k-80k.
Australian makers Aerosonde say that their design was the first sky-bot to cross the Atlantic in 1998. The company's technology was originally developed with assistance from the US Office of Naval Research, and has previously deployed on earlier joint operations with American hurricane-watcher aircraft from the NOAA and US Air Force. NASA has also used Aerosondes.
Previously the Aussie robocraft used a American naval airbase at Key West, but it's hoped that the new Barbados deployment for the 2008 hurricane season will allow more storm probes than in previous years.
Despite the old seadog's rhyme*, hurricane season is officially just about to open in the Caribbean. The NOAA sets the start at the first day of June. More on this story from Reuters here. ®
Bootnote
*"June, too soon; July, stand by; August, you must [expect hurricanes]; September, remember; October, all over." WARNING: This old seadog mnemonic is not totally reliable, especially regarding October.