Swedish artist Erik Nordenankar claims to have created the world's biggest "drawing", having dispatched a GPS unit on a 110,664 km odyssey to create a global self portrait: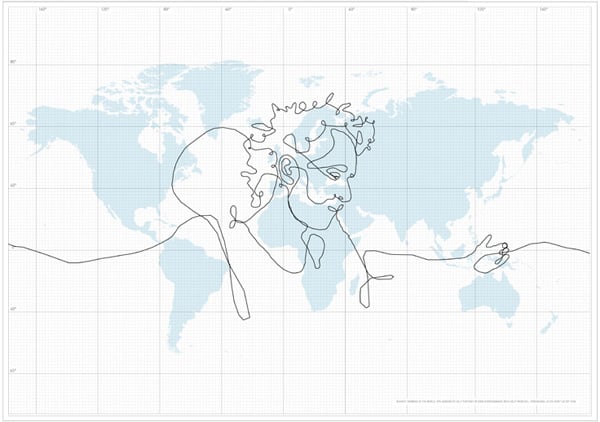 Nordenankar explains: "On the 17th of March 2008, I sent away a briefcase containing a GPS device with the express transportation company DHL. I gave them exact travel instructions, where to go and in what order. 55 days later the briefcase returned to Stockholm.
"The GPS automatically recorded the briefcase's journey around the world. The information was downloaded to my computer and gave me my drawing. Due to the GPS drawing technique and the magnitude of the drawing, the self portrait had to be made in one stroke. That giant stroke passed through six continents and 62 countries, thus becoming 110,664 km long."
Well, logistically improbable as this splendidly pointless art statement seems, Nordenankar has provided a short video showing a few highlights from the trip:
In case you're wondering just why DHL would go to such great lengths in the name of art, it turns out the whole thing is a publicity stunt for the company. Nordenankar explains: "The best advertising is developed with society. using a GPs and the express shipping company DhL, i drew a self-portrait on our planet. i used the technological aids of our time to make the world's biggest drawing, along with advertising adapted to the contemporary era. a campaign the recipient wants to see and which is interesting enough for people to want to share it with their friends."
Well, it is interesting, but we reckon DHL and Nordenankar may now be able to add the world's largest carbon footprint to their trophy cabinet.
Here's a planet-hugging challenge for the artist: a 4,000-mile high portrait of Paris Hilton created using GPS, bicycle and rowing boat. We look forward to the video highlights in due course. ®