Canon Digital Ixus 80 IS compact camera
An evolutionary rather than revolutionary offering
---
Review Not long ago we looked at the Digital Ixus 70 IS and now comes the follow up, the Digital Ixus 80 IS. So is it a case of the same chocolates in a different box or has Canon radically redefined this camera sector?
First impressions are that the Digital 80 IS has that cool "Ixus look" – our model was sleek, silver, stylish and sophisticated, with a matte aluminium finish and chrome trim around the lens.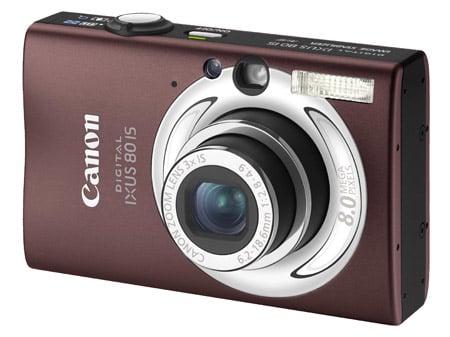 Ixus 80 IS: respectable rather than spectacular
Other colours, including brown, pink and caramel, are available. At the top is a large shutter button, a small power button and the zoom ring, while at the back is the familiar Ixus layout, with a small viewfinder (handy if shooting in bright light), large, bright 2.5in LCD screen, three-position slider for camera, movie and playback mode, and large function control ring for setting the ISO, macro mode, timer and flash.
In the middle is a Function Set button, which is used for selecting auto, manual and various program modes, as well as features such as white balance, compression and image file size. Below this are two small buttons for the display and menu. The latter is used to select various set-up menus. At the bottom is a small cover flap for battery and SD/SDHC memory card.
When it comes to specifications, the Ixus 80 IS is respectable rather than spectacular. There's a 1/1.25in CCD chip with 8 million effective pixels; a 3x 6.2-18.6mm zoom lens equivalent to 38-114mm lens on a 35mm camera, which is disappointing for anyone looking for a wide angle setting; DIGIC III processor; shutter speed range of 1/60-1/500sec; ISO range from 80-1600 with an optional High ISO Auto, not to mention Face Detection and optical image stabilisation systems – the latter can be set to continuous, shot only or panning mode.