This article is more than 1 year old
Google opens cloud to (all) earthbound developers
'Here's how much we'll charge (kinda, sorta)'
Google I/O Google has offered a spot on its cloud to every developer down on earth. And it can almost tell you how much it plans to charge for this sky-high real estate.
Early last month, Google unveiled App Engine, a service that lets outside developers build and run web apps on the company's very own distributed infrastructure, and this morning, it opened the platform to world+dog. Previously, App Engine was closed to all but 10,000 quick-with-a-sign-up preview testers.
Google technical lead Kevin Gibbs announced the news during a keynote at Google I/O, the company's first large-scale you-pay-your-own-way developer conference, and he received the second biggest cheer of the morning. The biggest arrived during a demo of Android, Google's fledgling mobile OS, but more on that later.
"We're heard that you really want to try App Engine out," he told an audience of several hundred dev types. "In response to that, we're announcing that Google App Engine is now open to anyone who wants to sign up."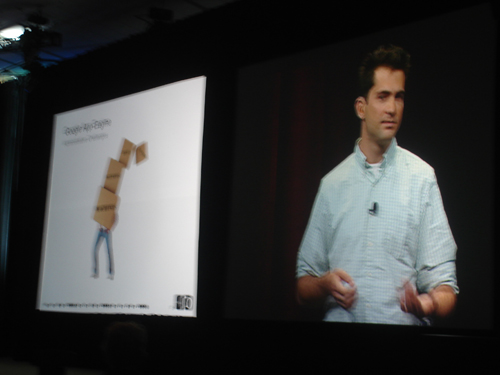 Kevin Gibbs
App Engine offers dynamic web-serving, storage, automatic scaling and load balancing, APIs for authenticating users and sending email, and a local development environment that lets you code on earth before uploading to the cloud.
"Using the GUI text editor you're already familiar with, you can write your app on your machine, and our APIs let you complete it, save it, and do all of your development locally," Gibbs explained. "Then you can deploy your app to Google. This is as simple as pressing a button or running a command line script."
Currently, the platform is completely free. But you're limited to 500MB of storage and "enough CPU and bandwidth for about 5 million page views per month." Sometime later this year, Google will sell resources above and beyond these limits, and today, it also announced that it has a pretty good idea what it plans to charge:
$0.10 - $0.12 per CPU core-hour
$0.15 - $0.18 per GB-month of storage
$0.11 - $0.13 per GB outgoing bandwidth
$0.09 - $0.11 per GB incoming bandwidth
Gibbs estimates that under this pricing plan, another 5 million page views would cost around $40 a month. And he wants to make sure everyone knows that the first 5 million will remain free.
He went on to say that he and his Google Apps Engine will release two new APIs "sometime this week" - one for memcache, a standard for distributed memory caching, and one for image manipulation. "This allows you to resize, crop, and otherwise alter images more efficiently from within App Engine."
Bootnote
At one point during his speech, Gibbs asked himself the question "What sort of apps are people building with App Engine?" Then he answered himself by demonstrating an app called TweetWheel, which gives you "a graphic representation of all your friends on Twitter." But hopefully, you'll aim for something a little more useful.