This article is more than 1 year old
Google opens Android kimono
For about 10 minutes
Google I/O The second loudest cheer was for the opening of Google App Engine. The loudest was for a compass built into an unnamed mobile handset running Android.
This morning, during an extended keynote speech at Google's I/O developer conference in San Francisco, Android engineering director Steve Horowitz demonstrated the fledging mobile OS on a mystery handset with a Synaptics touch screen, showing off several applications for the first time. Among these was a version of Street View that moves through Google's virtual world in response to the physical movements of the phone itself.
"With a flick of the finger, you can navigate around," Horowitz said, as he used the device's touch screen to wander through Street View. But then he switched to "compass-mode," tapping into the device's built-in compass and accelerometer. He could spin through those virtual streets simply by spinning his phone. "This is one of my favorite new features on Street View," he said, as applause erupted from several hundred developers. "The device can actually track my movements."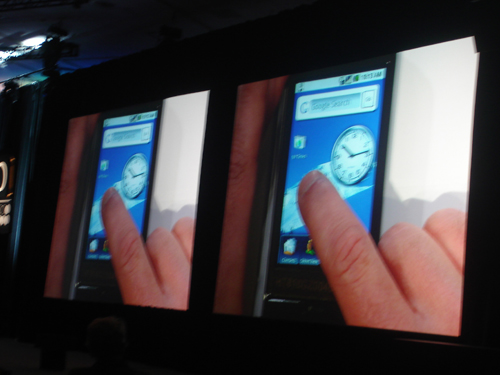 What Android might look like
Google bills Android as an "entirely open source world-class mobile stack." But at the moment, it's not open source. Google is privately developing the platform in tandem with more than 30 mobile-industry partners, and it won't open things to outside developers until version 1.0 is released "in the second half of this year." No, Google wouldn't get more specific than that - even when pressed.
So the demo from Horowitz provided a rare glimpse of the Android stack, designed to give you "everything you need to build a mobile phone from the ground up."
Before opening the kimono on his Street View compass mode, Horowitz demoed a "customizable unlock screen." Think the Jesus Phone unlock screen - except you've got more options than a finger swipe. "You can choose what your unlock pattern is," Horowitz explained. "You can use a simple gesture or you can have a more secure pattern" - such as tracing the letter "E" on your touch screen.
Horowitz also showed off Android desktop icons for quick application launch; a "status bar" that centrally displays new emails, missed calls, and calendar appointments; and a mobile version of Pac Man.
All this was demonstrated with touches to a touch screen. But at a press conference following the Horowitz keynote, Android project leader Andy Rubin told reporters that all these applications would also work with a BlackBerry-esque track ball.
Naturally, certain phones will handle certain apps better than others - a device without a compass can't do compass mode - but Rubin pointed out that Android is designed to work with practically any phone. "Even phones without screens," he said. ®