This article is more than 1 year old
KDE 4.1 beta 1 released
Wobbles on desktop, won't fall down
K Desktop Environment project devs have made the first beta of KDE 4.1 available today.
The latest code for the desktop suite features expanded desktop shell functionality, the KDE Personal Information Management suite ported to KDE 4, and many new and newly ported applications.
Testers, brave of heart, and those craving the bleeding edge — stable versions be damned — can find the code here.
The most noticeable changes are to KDE 4.0's desktop and user interface tool, Plasma. Support has been added for multiple and resizable panels and the application launcher menu as ben polished and optimized. And the wobbly effect? More pervasive than ever.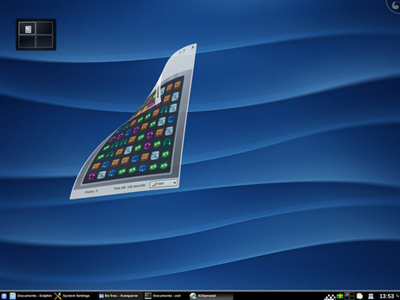 KDE personal information manager, Kontact, has be ported from KDE 3 to the beta release. The dev team says many features from KDE Enterprise Branch have been incorporated, making the platform more useful in business settings.
A bunch of applications have been ported to KDE 4. There's also some new arrivals such as Dragon Player, a lightweight media player.
Then there's improvements to the core KDE libraries and infrastructure to speed things up — but that kind of stuff distinctly lacks wobbly-ness, so you'll just have to look up the details on the release.
Final release for KDE 4.1 is scheduled for July 29, 2008. That's six months after the KDE 4.0 was released. ®