This article is more than 1 year old
Google waves Occam's Razor at web coders
Channels Swedish Chef
Google I/O Google's famously stark home page was a happy accident. It was designed by company co-founder Sergey Brin, and as legend has it, stark was his only option. "We didn't have a web master," Brin says. "And I don't do html."
But nearly ten years on, the world's largest search engine still believes in that no-frills landing page, and on Thursday morning, at the Google I/O developer conference in San Francisco, Google vice president/poster child Marissa Mayer used it as teaching tool for several hundred web-happy coders.
"You're all familiar with Occam's Razor - that the simplest answer is probably right," Mayer said during her morning keynote. "The same thing is true in [web] design. The simplest design is probably right."
After lauding the effectiveness of the home page she's overseen for the past 8 years - and flashing a photo of Brin in his bathing suit - Mayer gave two other Googlicious examples of web simplicity trumping the urge for more content.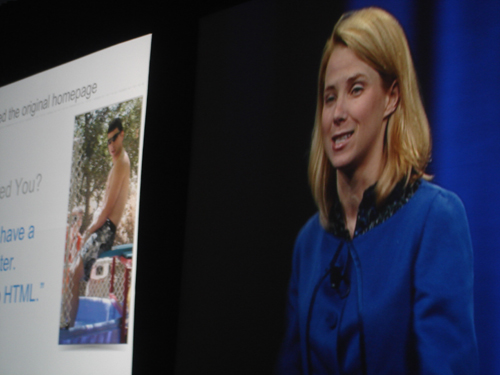 Sergey Brin and Marissa Mayer
As you all know, an ordinary Google search gives you just ten results. You can't get more without loading another page. Google has tried packing more results into that first page, but according to Mayer, this typically results in less traffic.
After increasing the number of first page results to 30 for a group of guinea pigs, Google watched as the number of searches dropped by 20 per cent. "It turns out that it takes us longer to produce 30 results per page," Mayer explained. "And that latency drove the decline."
Then she turned to Google Maps. When this AJAX-ified service originally launched, the maps were significantly larger. But Mayer and company soon realized that users were more likely to load smaller images. "When we reduced the size of the page by 30 per cent, the number of map requests increased by 30 per cent."
Of course, simplicity isn't the only mantra at Google. Mayer also told her audience of rapt developers they should never shy from the most daunting of tasks, pointing out that Brin-buddy Larry Page has "a healthy disrespect for the impossible." And she couldn't help but trot out that other self-satisfied Googlism: "20 Per Cent Time."
You know, Googlers are encouraged to spend one day a week working on whatever they feel like working on. Mayer bragged that 20 Per Cent Time led to such well-known services as Google News, Google Scholar, and Google Alerts.
She did not list the 20 Per Cent Time projects that resulted in absolutely nothing. Neither did she acknowledge that this sort of thing works best if you have one of the world's greatest money-making machines.
Mayer's audience didn't really perk up until she told them they could use Google in Muppet mode. As you may know, if you visit the Google preferences page, you can change the default language to "Bork, bork, bork!" - in which case the world's largest search engine proceeds to channel the Swedish Chef. According to Mayer, Google translates more than a million pages a day into "Bork, bork, bork!" ®