This article is more than 1 year old
Heaviest Virgin Media downloaders face new daytime go-slow
Operation Hog Strangle
Virgin Media will double the number of hours it throttles the bandwidth of customers who hammer its network day and night, changes to its traffic management policy have revealed.
The tightened regime means that between 10am and 3pm subscribers to its "M", "L" and "XL" packages will have their connection throttled for five hours if they download more than their full speed ration.
The decision follows recent regional testing of extended restrictions in London and the North West. Previously the brakes were only slammed on for five hours if limits were exceeded at any point between 4pm and 9pm.
Now, "M" customers who bust 900MB during the day will have their theoretical maximum download halved from 2Mbit/s to 1Mbit/s. "L" and "XL" users' usual headline speeds of 10MBit/s and 20MBit/s will be slowed by three quarters if they break daytime download limits of 2400MB and 6000MB respectively.
The download thresholds for the daytime throttling period are double those of the evening period, which also restricts uploads. We've reproduced Virgin Media's explanatory table below: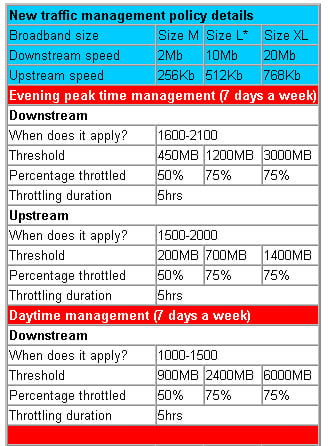 Virgin Media says that at current levels of demand, one per cent of its 3.8 million customers will be affected by the new daytime restrictions. In the evening, when ISP networks are under most strain, traffic limits are aimed at the top five per cent heaviest users.
A spokesman said the new rules are necessary to ensure quality of service for the majority. The move will nevertheless anger some who have been tricked into believing that "unlimited" broadband actually exists by years of crummy marketing by the ISP industry.
The cable monopoly, created by the merger of NTL and Telewest in 2006, is currently working to boost its top speed to 50MBit/s as part of its strategy to put broadband at the centre of its quadruple-play offering. recent trials to ramp Virgin Media's 10Gbit/s backhaul to 40GBit/s in support of the upgrade were successful. ®