ISS toilet spares stowed and good to go
Discovery relief mission blasts off tomorrow
Relief is at hand for the cross-legged ISS crew in the form of spares for the clapped-out Russian ASU toilet, which have been stowed aboard Space Shuttle Discovery due to blast off tomorrow.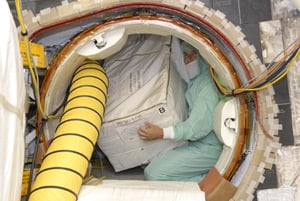 The parts (seen here during loading), including a pump, will hopefully allow astronauts to take a bother-free leak. While the ISS's main toilet still works for solid waste, it requires "additional steps for liquid waste" and needs ten minutes maintenance by two crew members after three flushes, according to NASA.
The agency mercifully doesn't go into details, and deputy International Space Station program manager Kirk Shireman simply offered: "It is very inconvenient at this time because it requires a lot of manual intervention."
The outlook for Saturday's Space Shuttle launch (slated for 21:02 GMT) is favourable, with "80 per cent chance of acceptable [weather] conditions at launch time". LeRoy Cain, chairman of the Mission Management Team, confirmed: "The vehicle and the crew and the weather and the [launch] team are all ready to go."
Discovery's principal task on its 14-day STS-124 mission is to deliver the second consignment of the Japan Aerospace Exploration Agency's Kibo laboratory, constisting of the large Japanese Pressurized Module and robotic arm system.
The spacecraft will also drop off new ISS crew member Greg Chamitoff and bring back Flight Engineer Garrett Reisman at the end of a three-month stay aboard the outpost. NASA has a mission summary here (pdf). ®