Low-end EMC NSX is on its way
Stronger competition for NetApp
To better compete with NetApp, EMC is to launch a low-end version of its Celerra NSX NAS gateway product.
A NAS (network-attached storage) gateway is a server presenting files to accessing application servers but storing them on a storage area network (SAN), The Celerra NSX (pictured) is a data center-class NAS and IP storage gateway front-ending Symmetrix or CLARiiON Fibre Channel storage. It is accessed via NFS, CIFS or the iSCSI protocol and is built from a clustered X-Blade architecture.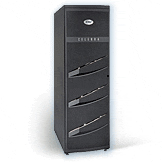 Each X-Blade has dual Pentium 4 CPUs, runs the DART (Data Access in Real Time) O/S, and is an autonomous file server supporting up to 32TB of Fibre Channel drive or SATA drive storage in Fibre Channel-connected arrays. There can be between 3 and 8 X-Blades with maximum storage of 256TB, of which 224TB is usable.
According to a well-informed source the NSX-4 will be a small scale version of the product, with price and performance characteristics making it a stronger competitor to alternate NetApp products. It is expected within the next one to six months.
An EMC spokesperson said: "While we appreciate the opportunity to respond to your query, we never comment on futures."
"We would like to say that we are already successfully competing with NetApp. In fact, EMC grew its NAS revenue by more than 50% year-over-year in Q1 2008, fueled by the continued traction and success of the EMC Celerra NS20 (which was introduced last year)."
Copyright © 2008, Blocks & Files.com