This article is more than 1 year old
Metadata ruins Google's anonymous eBay Australia protest
Should have used Google Docs
eBay Australia's decision to force customers from next month to use its own payment service, PayPal, has infuriated a good number of individuals and organizations steamed.
The Australian Competition Commission and Consumer Commission (ACCC), which is sniffing around the proposed policy, lists hundreds of submissions from buyers, sellers, banks, and competitors alike, offering their share of the outrage.
One mysterious submission in particular compelled some folks to pull out their calabash pipe and magnifying glass. First of all, the ACCC queerly withheld the name of the organization that filed it — and the thorough 38-page document seems to have come from an author with an intimate knowledge of PayPal system.

Who could it be?
But the author was soon revealed by David Bromage from Canberra. He simply took the PDF provided by the site, put it into a text editor, and voilà — the metadata revealed all: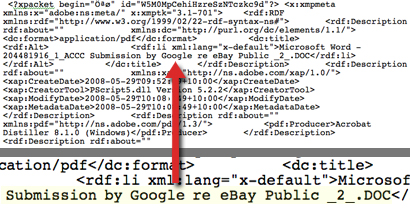 Dun dun duuunnn!
It seems the ACCC forgot to remove the original document title, "Microsoft Word - 204481916_1_ACCC Submission by Google re eBay Public_2_.DOC."
So much for redaction. (On a side note, why is Google using Microsoft Word when it has its own word processor application?)
After the discovery was posted on AuctionBytes yesterday, the PDF submission was taken down. It reappeared on the ACCC site with most of the metadata removed and the redacted text rendered as images.
Oh, but it's too late, ACCC — the internet already caught you with your pants down.
eBay Australia claims that removing alternative payment options will improve site security. Google argues that any public benefit claimed by eBay is "illusory."
"Ebay's proposed conduct will result in significant public detriments including a reduction in consumer choice and a reduction in the overall quality of online payment processing services in Australia."
But why would Google submit a protest anonymously? Currently, the company provides the competing Google Checkout payment system only in the US and UK.
Google wasn't exactly forthcoming in answering our question. "We're working hard to internationalize Google Checkout but have no timetable to announce in Australia at this stage."
So then, Google wants a smooth landing when it decides to fly Checkout to Down Under. But it is probably a little shy about publicly lashing out against eBay after its anti-eBay "Boston Teaparty" bash went over like a house on fire.
Unfortunately for Google, its ill-fated attempt to be discreet will probably draw more attention to its filing than if it had just signed its name.
A copy of the document pre-metadata removal is available here. ®