This article is more than 1 year old
Aliph Jawbone Bluetooth headset
We'll be sticking fish in our ears next
Exclusive Review Hands-free headsets are a boon for mobile users. Not only can you pretend to be Lieutenant Uhura, but you can write while you're on the blower or drive more safely. And legally.
Last year, Aliph released the Jawbone, a Bluetooth headset that was different from most earlier devices because it was sufficiently stylish for you not to feel a like plonker, and because it was easy to set up.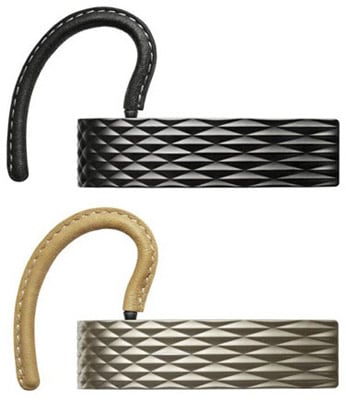 Already available in the US and Australia in black, silver and rose gold
Where previous headsets had proved challenging to pair and stay paired with a phone, Jawbone was simple and effective. It even had pretensions to being cool because its noise-cancelling technology had been developed for an American military defence agency.
Now, Aliph has refined the design and the technology to deliver a more powerful and neater new Jawbone. The new one is noticeably smaller, half as wide, much less thick and a little shorter. Although the MK1 wasn't huge, many will find the latest size-zero model preferable. Measuring 5.5 x 2.5 x 1.5cms and weighing around 10g, it's certainly much lighter, to the extent that you aren't as aware that it's there.
Still, since the sight of a guy wandering around with lights flashing on a headset permanently in place is not exactly something to imitate, forgetting it's there may not be an unalloyed advantage. At least the indicator light is subtle, a tiny white blip that flashes only occasionally and is otherwise invisible behind the matt-black, textured surface.