This article is more than 1 year old
Aliph Jawbone Bluetooth headset
We'll be sticking fish in our ears next
This disappearing light is impressive, but also brings up the Jawbone's first flaw. You switch it on by pressing on the casing for a second or two. The white light appears to tell you it's been activated, but it's positioned not quite halfway down the unit, exactly where we found ourselves placing a thumb. It's not a big problem, and it's easy to learn where to press so you can see the confirming flash, but it's not as simple as it was in the first incarnation.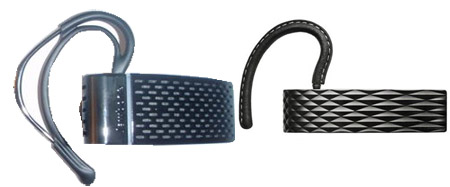 Old and new. Left and right, respectively
The other main change to the look of the machine is you no longer need to wear an over-the-ear hook. While the first version worked, just, if you screwed it into your shell-like without the hook, this lighter version is a big improvement, holding steady without extra assistance. Mind you, if you prefer the extra security of the hook, a selection of improved, thinner attachments is supplied. You can choose between medium or large ear hook (both supplied in leather and wiry rubber variants).
They're easy to fit and choosing the right one makes a lot of difference. And for your lughole itself, there are small, medium or large earpieces to ensure the perfect fit. This level of attention to detail is even reflected in the design of the charger. It's grey, to stand out from the endless black plugs and connectors littering modern living rooms. You can charge from the wall or through USB and the Jawbone attaches to the cable by magnet. Apple uses this for good safety reasons on its laptops, of course, but here it's just cool.
The Noise Shield on the earlier model was effective, but not perfect. Standing in the park on a windy day left a lot to be desired, as did driving with the window open. Thankfully, this has been largely improved in the new model.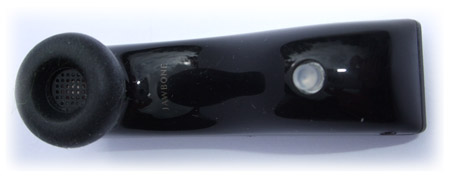 A sensor detects your own jaw bone move as you talk
It works by means of a sensor that rests on your cheek and can feel your actual jaw bone vibrate as you talk. The ear hook on the earlier device worked partly as a spring to hold the sensor against the cheek. The lighter, newer model doesn't need this extra assistance. This sensor, alongside two other microphones that monitor the environment, helps the device determine what's you and what's background noise. It's these other mikes that picked up blustery noises before, as they were direction mikes, though this has been changed in the latest iteration, making it more wind-immune.