This article is more than 1 year old
Aliph Jawbone Bluetooth headset
We'll be sticking fish in our ears next
The technology has changed names, too. Noise Shield is gone - it's now called Noise Assassin, which sounds like it belongs on a ninja warrior. What next, Noise Nuke? Noise Obliterator? Suddenly it all begins to sound like the bellicose Looney Tunes alien, Commander X-2 and his Explosive Space Modulator.
Back on Earth, the Jawbone's noise-reduction system in switched on by default, but if you find it's not helping you, pressing the back end of the device - another cunningly hidden button and in a different orientation than last time around - switches it off. In practice, handling the Jawbone while it's in your ear takes care. It's easy to accidentally power down with an over excessive shove while sticking it into your ear.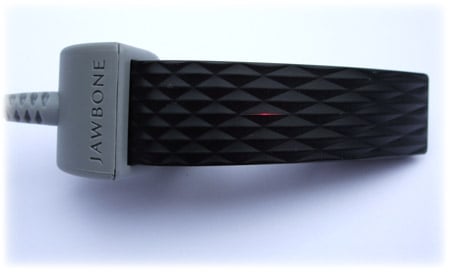 You can charge from the wall or through USB
The Noise Assassin button also works as the volume control. Rather than having two buttons to turn the volume up and one down, you use one button to scroll through the available settings from low to high and back. Needless to say this takes getting used to. The first time you switch on, the Jawbone goes into pairing mode so you can actually use it.
Every other time you need to make it available to pair up, you simply press both buttons together for a couple of seconds. Pairing Bluetooth devices used to be a real pain, and thankfully the Jawbone keeps it nice and easy.
In our tests, sound quality was good at distances of more than five metres, though at the full 10 metres that Bluetooth claims it sounded a little crackly. Charging times have been reduced, with Aliph claiming that you can charge the Jawbone to 80 per cent in half an hour or so. The earlier model had exceptional standby time, and there's a neat extra power-saving function here: if you and your phone move out of range of the Jawbone, after 15 minutes it switches itself off.
Verdict
Fans of the earlier Jawbone - and there were deservedly many for what was the coolest-looking, most reliable and easiest-to-use Bluetooth headset around - will enjoy the smaller, subtler new model with significant improvements to call quality. The buttons take a little getting used to and only one button to scroll through volume settings is disappointing, but this is an efficient, effective headset that matches or beats the best of the competition.
The Jawbone Bluetooth headset is available in the UK from June 3rd.

Aliph Jawbone Bluetooth headset
Neat, effective and as cool as ever, the new Jawbone uses cutting-edge technology to make yourself heard