This article is more than 1 year old
Uncontacted rainforest tribe caught from the air
Remarkable snaps highlight Peruvian logging threat
Survival International has published remarkable snaps of an uncontacted tribe on the border between Brazil and Peru to highlight the plight of such groups which are threatened by illegal logging.
One photograph, captured during one of several flights over the area, shows tribal members evidently none too pleased with the fly-past: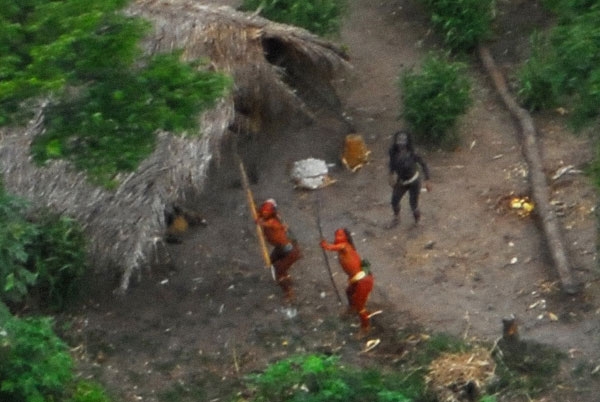 José Carlos dos Reis Meirelles Júnior, of Brazil's Indian affairs department (FUNAI), said: "We did the overflight to show their houses, to show they are there, to show they exist. This is very important because there are some who doubt their existence."
Meirelles explained that while the group caught on camera is apparently thriving, "other uncontacted groups in the region, whose homes have been photographed from the air, are in severe danger from illegal logging in Peru". He elaborated: "Logging is driving uncontacted tribes over the border and could lead to conflict with the estimated five hundred uncontacted Indians already living on the Brazilian side."
Meirelles said: 'What is happening in this region [of Peru] is a monumental crime against the natural world, the tribes, the fauna and is further testimony to the complete irrationality with which we, the 'civilised' ones, treat the world."
According to Survival International, there are one hundred uncontacted tribes worldwide, with over half living in either Brazil or Peru. Since all are "in grave danger of being forced off their land, killed and decimated by new diseases", the organisation has launched a campaign to have their land protected.
Survival's director Stephen Corry said: "These pictures are further evidence that uncontacted tribes really do exist. The world needs to wake up to this, and ensure that their territory is protected in accordance with international law. Otherwise, they will soon be made extinct."
The organisation is asking concerned citizens to back its lobbying by writing a letter to Peru's president urging him to act in defence of the Indians' reserves. ®
Bootnote
Survival International has more snaps on its website, but it's a bit wobbly at the moment due to "exceptionally high levels of traffic". Probably best to wait until they deploy more server power later today.