Cross-legged ISS crew members will, hopefully, soon be able to relieve themselves fully into a Russian ASU toilet following the successful launch this evening of Space Shuttle Discovery which, as well as performing the useful task of delivering the second part of the Japan Aerospace Exploration Agency's Kibo laboratory to the station, bears spares for the cantankerous space bog: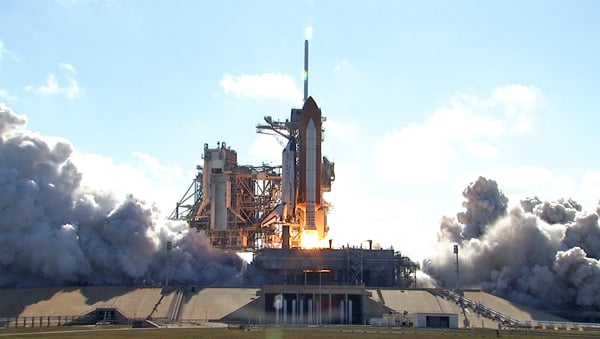 Discovery took off from Kennedy Space Center in Florida at 21:11 GMT, and is set to rendevous with the ISS in two days. Its 14-day STS-124 mission is primarily concerned with deploying Kibo's Pressurized Module and robotic arm system, but all eyes are on whether the mission can get the ASU to suck, and in doing so, not suck, as it were.
For those of you not up to speed on space toilets, the ASU failed on 21 May following a "loud noise" - apparently the failure of the air/water separator pump. Despite the ISS crew's best attempts at DIY, they were obliged to request an emergency plumbing space-lift to tackle the problem.
Discovery will also drop off new ISS crew member Greg Chamitoff and relieve Flight Engineer Garrett Reisman at the end of a three-month stay aboard the ISS. NASA has a mission summary here (pdf). ®