Spanish chanteuse strips for anti-bullfighting campaign
¡Olé!
---
NSFW Veteran Spanish singer Alaska has brought her considerable assets to bear in a combined AnimaNaturalis-PETA campaign against bullfighting.
The Fangoria frontwoman features on a poster which states: "The truth laid bare. Bullfighting is cruel":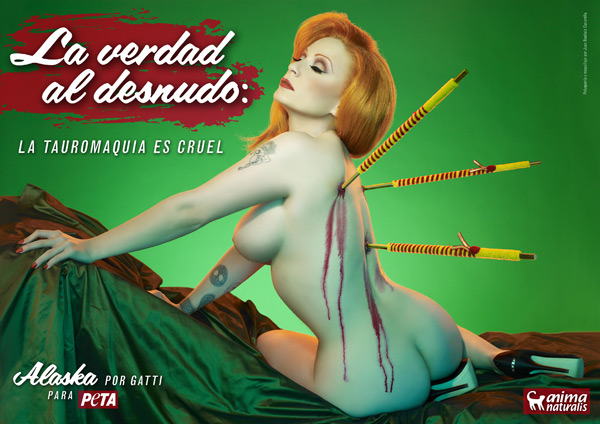 The AnimaNaturalis statement quotes the Mexican-born chanteuse as saying: "We don't have the right to hurt anyone, neither a child, nor a dog, nor a bull."
The striking image has been released to coincide with the Madrid bullfest of San Isidro, and while old boys around Spain continue to congregate in bars every afternoon for the televised spectacle, AnimaNaturalis insists that, according to a Gallup poll "82 per cent of Spanish citizens between 15 and 24 years old aren't remotely interested in these festivals".
In recent years, Spain has scrapped some of its more controversial fiesta outrages, such as the famous chucking of a goat from the church tower in Manganeses de la Polvoros, Zamora, which earned the locals the name "goat tossers".
Bullfighting, however, would prove rather more difficult to prevent. This hack has spoken to locals who, while indifferent to the sport, view outside attempts to ban it as an insidious erosion of their culture. My personal experience of bullfighting is restricted to a trip years back to the San Isidro festival during which a young torero was dispatched on a stretcher to the nearest A&E department by an enormous taurine which took exception to his cape-waving.
He, of course, was in the ring voluntarily. The bull had no say in the matter, except to demonstrate exactly how to deploy a fine set of horns. ®