US town tells Street View to push off
Private community snaps removed from Google Maps
Google has removed a private Minnesota community from its Street View feature after the town politely asked the search monolith to keep its roving spycars to itself.
North Oaks, north east of Minneapolis, boasts a "unique situation", the Minnesota Star Tribune reports, in that its roads are owned by the residents and it "enforces a trespassing ordinance". The North Oaks City Council sent Google a letter back in January asking for erasure from Street View, and the company quickly complied: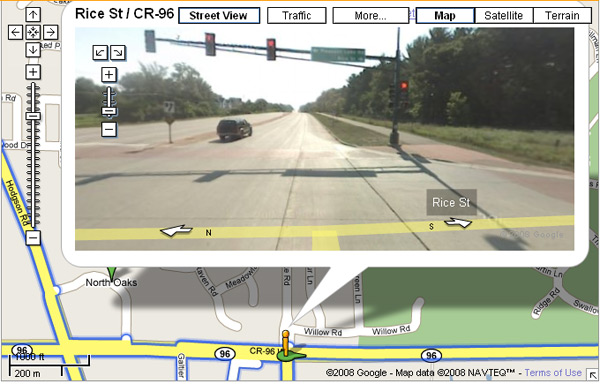 Mayor Thomas Watson explained: "It's not the hoity-toity folks trying to figure out how to keep the world away. They really didn't have any authorization to go on private property."
Google spokswoman Elaine Filadelfo said the Street View driver "likely didn't see North Oaks' no-trespassing signs", and confirmed: "Certainly private roads are something we take seriously."
Google is coming under increasing pressure to address the Street View privacy issue. Mr and Mrs Boring of Pittsburgh recently accused the company of "photographing their swimming pool and posting it to the web"; while the Pentagon got rather annoyed with photographs of Fort Sam Houston.
The company has a "delete-on-request" service for individuals caught on camera, and last month deployed some experimental face-blurring tech on images of New York shortly after admitting privacy could be a bigger issue in Europe than in the US as it began to prowl the streets of several European cities. ®