VIA has revised its NanoBook Small, Cheap Computer reference design to make it a little more like Asus' Eee PC. It also comes with a new name: OpenBook.
The chipmaker had to change the name, of course. Having just launched its 'Isiah' 64-bit CPU as the Nano, folk would have assumed the sub-notebook design featured the new processor had the name not been tweaked. As it stands, the OpenBook continues to use VIA's C7-M ULV (Ultra-Low Voltage) CPU.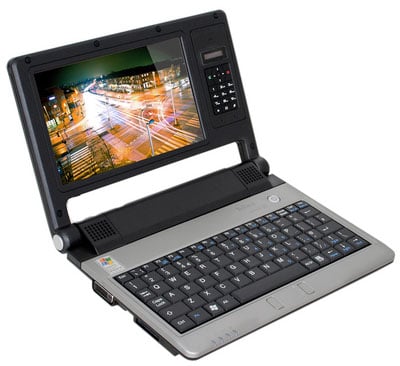 VIA's Nanobook: out with the old...
The 1.6GHz processor sits on an 800MHz frontside bus connected to a VIA VX800 chipset - an upgrade on the Nanobook's VX700 chipset. VIA anticipates licensees throwing in up to 2GB of DDR memory and at least 80GB of hard drive storage.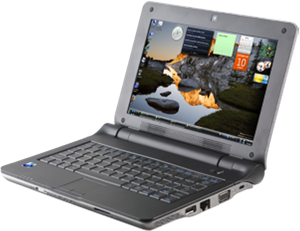 ...and in with the new: VIA's OpenBook
The design calls for an 8.9in, 1024 x 600 display, an improvement on the NanoBook design's 7in, 800 x 480 screen. The graphics come courtesy of the chipset's integrated VIA Chrome 9, a DirectX 9-compatible GPU that can grab up to 256MB of main memory for its video buffer.
The OpenBook spec includes Readltek HD audio codec and Broadcom Gigabit Ethernet chippery with 802.11b/g Wi-Fi and Bluetooth as standard. WiMax, HSDPA and EvDO mobile broadband technologies are optional internal add-ins.
Like the Eee PC, the OpenBook has three USB 2.0 ports, 3.5mm audio I/O sockets, a VGA connector and a memory card reader - a four-in-one job in this instance. There's a two-megapixel webcam on board too.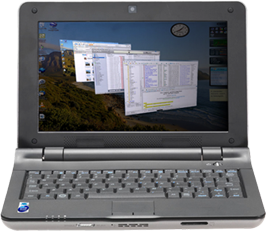 Like the Eee PC - only curvier
The whole lot weighs under a kilo, and measures 24 x 17.5 x up to 3.6cm.
VIA said the battery is a four-cell, "2600mA" job, which isn't impressive. In our tests, a NanoBook derivative with a 1.2GHz C7-M ULV proved to have rather less runtime than an Eee PC 701 with a 630MHz Celeron M processors.
Related Sub-notebook Reviews
Vye mini-v S37B
Asus Eee PC 900
Apple MacBook Air
Toshiba Portégé R500
Maxdata Belinea s.book 1
Asus Eee PC 701