Acer punts £199 Linux laptop
Aspire One launched at Eee-beating price
---
Computex Acer has launched its Eee PC wannabe, the Aspire One, pitching the product to Brits at just £199 including VAT - even though it's "not a low-cost notebook", according to the company.
The One's specs largely match those of its rivals: 1.6GHz Intel Atom N270 processor; 512MB of 533MHz DDR 2 memory with a single SO-Dimm slot for more; and an 8.9in, 1024 x 600, 262,000-colour LED-backlit display. There's a 0.3-megapixel webcam in the screen bezel.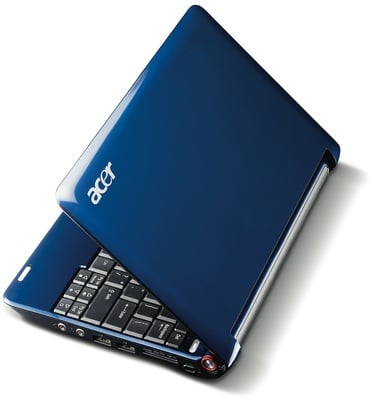 Acer's Aspire One: Eee-beating price?
As per usual with Small, Cheap Computers™, the One comes with a choice of Linux or Windows XP Home. The former is fitted with 8GB of solid-state storage, while the XP model packs an 80GB hard drive, a higher price and a lower battery life.
Under XP, expect two-and-a-half hours out of the standard, three-cell battery, or five hours if you buy an optional six-cell power pack. Run Linux instead of XP, and those numbers rise to three hours and seven hours, respectively, Acer said.
The One uses Intel's 945GSE chipset, so it's got HD audio on board and basic 3D graphics support. The machine has 802.11b/g Wi-Fi and 10/100Mb/s Ethernet for networking, three USB 2.0 ports, 3.5mm audio sockets and VGA - again par for the SCC™ course.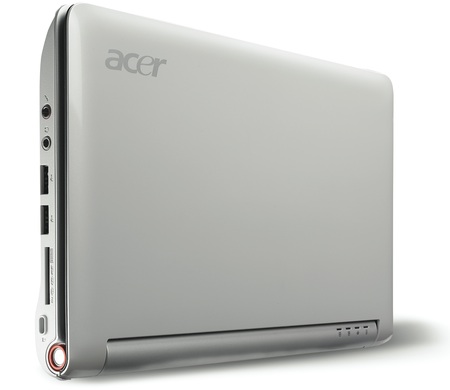 Smooth
However, the One has two memory card readers: one for SDHC that's intended as a storage booster, and a separate multi-format reader for data transfer. The former is presented as a single file system integrated with the main drive - clearly, Acer expects Linux users to load the slot up with a big SD card and keep it there.
The One contains two Mini PCI slots, one for the Wi-Fi and a second to take upcoming optional HSDPA or WiMax modules. The HSDPA unit runs at up to 3.6Mb/s, but Acer said it will be upgradeable to 7.2Mb/s and 2Mb/s HSUPA soon.
The battery life may be weak, but there's no arguing with the One's price: £199 for the Linux version and £299 for the XP model. It'll be made available - later this month - in a choice of blue or white, with pink, red and black models following down the line.
Related Sub-notebook Reviews
Vye mini-v S37B
Asus Eee PC 900
Apple MacBook Air
Toshiba Portégé R500
Maxdata Belinea s.book 1
Asus Eee PC 701