Asus announces 10in, HDD-equipped Eee PC
But Linux version to cost more than the Windows XP model
---
Computex Asus has announced the anticipated Intel Atom-based Eee PC - and a pair of new models that, the company claimed, boost battery life to more than seven hours. Oh, and they sport 10in displays, hard drives and 802.11n Wi-Fi.
As expected, the new version of the current 8.9in Eee PC 900 is the 901, while the 10in versions are dubbed the 1000 and 1000H - the former has Linux, the latter Windows XP Home. Both have a keyboard that's only eight per cent smaller than a standard laptop keyboard.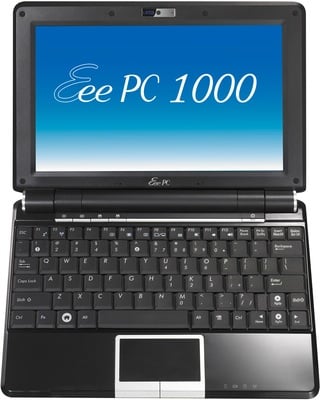 Asus' Eee PC 1000: cheaper with Windows XP
All three models incorporate what Asus is called Super Hybrid Engine technology, which despite sounding like it's a component out of the Toyota Prius is actually an underclocking tool that allows users to "adjust CPU frequency, voltage and LCD brightness to minimise system noise and power consumption to save up to 15 per cent power consumption, or to maximise system performance according to individual needs".
More to the point Asus' spec sheet apparently promises 3.2 hours minimum battery life - thanks, not least, to Asus' decision to ship the machines with a six-cell battery. Previous Eees have come with four-cell power-packs as standard.
Intel's Atom launch indicates all three sub-notebooks will contain 1.6GHz CPUs, backed by up to 2GB of DDR 2 memory for the 1000 and 1000H, and 1GB for the 901. All three gain 802.11n Wi-Fi. The 901 has the same storage capacity as the 900 - 12GB for the XP version, 20GB for the Linux model - but the 1000 will incorporate a 40GB SSD, while the 1000H has an 80GB hard drive.
As per previous Eee PCs, they have the usual array of three USB ports, a VGA connector, SDHC card reader, audio sockets, 10/100Mb/s Ethernet port. Their screens incorporate a 1.3-megapixel webcam too.
Asus expects the 901, 1000 and 1000H to cost NT$16,988, NT$19,988 and NT$18,988, respectively - that's the equivalent of $561/£285, $660/£335 and $627/£319, though clearly that's before import duty and sales tax are added over here.
You'll note that the Linux model is more expensive, but that's undoubtedly a result of all that solid-state storage and its cost relative to hard disks.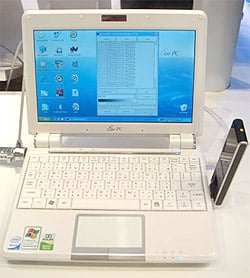 The 901 and WiMax dongle
Demo'd at the Computex show in Taipei today, the Eee PCs were accompanied by a "concept sample" with integrated HSPDA, and a 901 with WiMax. Well, sort of - the machine was actually attached to Asus' bulky WUSB25E2V2 WiMax USB dongle.
Related Sub-notebook Reviews
Vye mini-v S37B
Asus Eee PC 900
Apple MacBook Air
Toshiba Portégé R500
Maxdata Belinea s.book 1
Asus Eee PC 701