Discovery docks with ISS
First spacewalk later today
Discovery yesterday docked successfully with the International Space Station at 18:03 GMT, with mission STS-124 astronauts boarding at 19:36 GMT (see pic).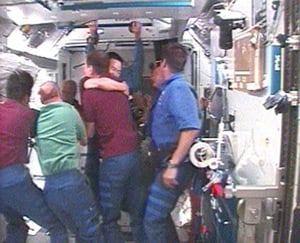 The shuttle arrived bearing mission specialist Greg Chamitoff, due to join the exisiting Expedition 17 crew, relieving flight engineer Garrett Reisman.
It also carries the second consignment of the Japan Aerospace Exploration Agency's Kibo laboratory, constisting of the large Japanese Pressurized Module and robotic arm system, plus spares for the bothersome Russian ASU toilet.
STS-124 kicks off in earnest today with the first of three spacewalks. Mission specialists Mike Fossum and Ron Garan are scheduled to venture forth at 15:32 GMT and "transfer the Orbiter Boom Sensor System back to the shuttle from its temporary location of the station's truss".
The sensor system is used to check the shuttle for damage and was stowed aboard the ISS during Atlantis's STS-123 to allow Discovery to free up extra cargo bay space for the Kibo delivery.
NASA has an STS-124 mission summary here. ®