Intel launches P45 chipset, says it's OK to overclock
Bundled utility offers easy tweaking
---
Computex Intel is to give free rein to overclockers to tweak the settings that can be applied to its 'Eaglelake' chipset, the P45, the chip maker has revealed.
Launched today at Computex in Taipei, the P45 will come with Intel's Extreme Tuning Utility (ETU), an app that the company said would bring "overclocking to the mainstream". The tool uses Wizards to allow users to adjust a range of system speed parameters to try to boost performance. It'll also operate automatically.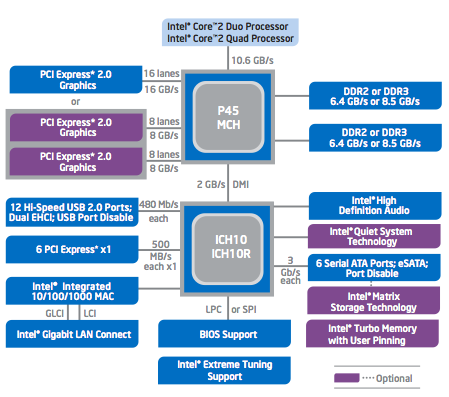 Intel's P45: system schematic
Officially, the P45 supports frontside bus speeds of up to 1333MHz and DDR 3 memory clocked at up to 1066MHz, but both can be tweaked with ETU.
The chipset also supports PCI Express (PCIe) 2.0 to host either a single x16 add-in card or a pair of x8 boards. The accompanying ICH10 or ICH10R southbridge chip adds six PCI slots to the picture, along with six 3Gb/s SATA ports and an eSATA connector, all of which can be disabled by corporations that don't want extra drives added to their PCs.
Likewise, any of the 12 USB ports can be blocked.
The ICH10R variant adds RAID 0, 1, 5 and 10 to the user's drive configuration options. Both southbridges support HD audio and sport on-board Gigabit Ethernet. It'll also automatically adjust system cooling fans to reduce noise whenever possible.
Intel also launched the P43 today, which is almost entirely identical to the P45 - it simply lacks the ability to host two graphics cards, limiting the user to a single x16 PCIe slot.