MSI unveils tiny eco-friendly desktop PC
Asus Ebox rival?
---
Computex If MSI hasn't blown you over with its Wind miniature notebook then the manufacturer's got another offering up its sleeve: a dinky desktop PC claimed to be both quiet and energy efficient.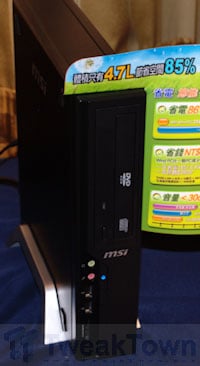 MSI's Wind PC: Atom powered
Images courtesy TweakTown
MSI unveiled the Wind PC at Computex in Taipei this morning, amid a product strategy called "Ecolution". The phrase apparently combines eco-friendly and environmental evolution into MSI products – to which the Wind PC is central.
That's because the miniature desktop PC, which has a very stong Asus Ebox feel about it - is being marketed mainly on its energy efficiency merits. For example, MSI stated that the 6.1cm-thick Micro-ATX PC can consumes 86 per cent less electricity than a larger desktop that might typically gobble up 250W of power - up to 35W, in other words. The machine apparently uses around 30mW when in idle mode.
But if you're prone to leaving the PC on at night, then the Wind PC shouldn't make much clatter because its operation noise, which includes the fan - operates at less than 30dB.
MSI's said very little about the machine's specifications so far. But according to one report by website TweakTown, the Wind PC has a 1.6GHz Atom processor, a 160GB SATA hard drive and 1GB of DDR 2 memory – with a second slot available for upgrades. Pictures also show four USB ports.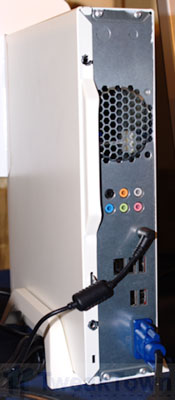 Basic array of portage
A DVD combo drive's built into the unit and the report stated that MSI has already showcased the Wind PC playing back 720p resolution video. An MSI spokesman reportedly claimed the machine isn't powerful enough to handle 1080p video.
MSI displayed several bizarre cases for the Wind PC at Computex, including a body featuring designs from Tom Clancy videogame Rainbow Six Vegas 2. It'll also be made available in a variety of single-colour cases.
A UK Release date or price for MSI's Wind PC hasn't blown in yet, but it's expected to retail for around NT$3900 - roughly $129/£66, though we doubt it'll come in quite that low when it arrives over here.