Hi-tech couch, coffee table pitched at modern sloths
Table boasts internal DVD player
---
Getting up from the sofa to play a DVD or turn on the stereo is such a pain, isn't it? One designer thinks it is, so he's sketched plans for a concept coffee table that plays DVDs.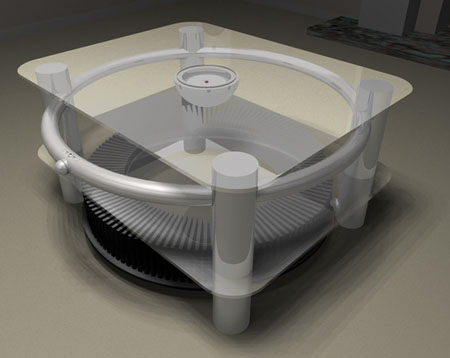 Lea's concept table stores and plays DVDs
Designer Peter Lea's coffee table has a circular DVD storage rack integrated into the bottom and a circular interactive control panel built into another ring just underneath the table's glass surface.
Users simply twist the control panel's knob to cycle through the DVD collection, with your selected title then transferred - Wurlitzer fashion, presumably; Lea doesn't say - into a domed DVD player underneath the table's glass surface.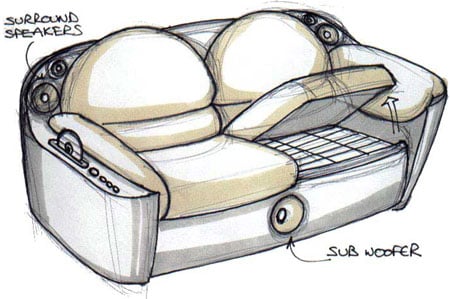 The sofa's designed for music fans
Presumably the coffee table is able to stream content over to a nearby HD telly wirelessly. Either that, or the cable's under the carpet.
If you'd rather sit back and listen to some tunes though, then Lea's also designed a two-seater sofa with a built-in CD player and speakers. Space for storing physical CDs is hidden in compartments underneath the sofa and in armrests, so all you'll need to do is pick one, slot the disc into the sofa's CD bay before music's pumped out through the integrated speakers.
Lea's coffee table and sofa aren't available to buy. Shame - we quite fancied a hard day spent testing them out...