Canon EOS 400D digital SLR
New to digital SLRs? This could be just the camera you need
---
Review DSLRs were once the province of the professional, with prices to match. But the cost has fallen, so for roughly twice the price of a mid-spec compact you can now pick up a decent digital SLR.
A camera like the Canon EOS 400D for example. The EOS 400D has been around for quite a while now and Canon has since launched the EOS 450D. But the EOS 400D remains in the Canon range and what's more, is the sort of camera a beginner to DSLR photography should have on their list of potential purchases.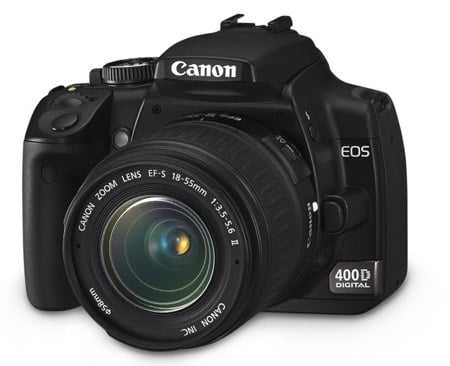 Canon's EOS 400D: compatible with more than 60 EF and EF-S lenses
As far as DSLRs go, the EOS 400D is fairly compact. No, you wouldn't want to try and squeeze it in your coat pocket, but you'd have no trouble storing it in a smallish bag; measuring 126.5 x 94.2 x 65mm and weighing 510g without lens. The camera comes with an EF-S18-55mm f.3.5-5.6 lens and Canon says the EOS 400D is compatible with more than 60 EF and EF-S lenses.
In terms of controls, the top of the EOS 400D has a shutter button, close to which is a small dial that is used for adjusting various parameters, such as shutter speed and aperture (its mode of operation depends on what camera mode you've selected). On top is a pop-up flash and large control dial, which Canon divides into two groups: the Basic Zone offers a range of auto features: full auto function, portrait, landscape, macro, sports, portrait and flash disable.