Samsung promises 'fastest' 256GB SSD by year's end
Mainstream spec - but what about the price?
---
Samsung has pledged to put a 256GB laptop-friendly solid-state drive into mass-production by the end of the year.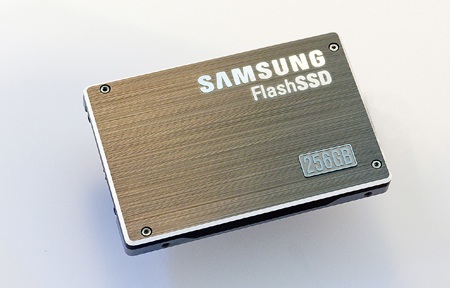 Samsung's 256GB SSD: company's fastest, most capacious Flash drive yet
The South Korean giant said the SSD will be made available in 2.5in and 1.8in forms. The latter will undoubtedly please MacBook Air buffs looking for an SSD upgrade, assuming the drive's made available with a parallel ATA interface - right now, Samsung's touting 3Gb/s SATA as the interconnect.
What's the betting for a January 2009 Air update?
The drives are 9.5mm thick, which makes them a good choice for a fair few skinny laptops, not just Apple's.
Samsung also claimed the drive would be its fastest yet, delivering a sequential read-speed of 200MB/s and a sequential write-speed of 160MB/s. They'll incorporate data-encryption tech too, and consume just 0.9W when active - less than many a hard drive in idle mode.