SanDisk makes sub-SSDs for sub-laptops
Hold me closer, tiny laptop
---
Computex SanDisk is prepping a new line of diminutive solid-state drives (SSDs), designed specifically to fit the cramped quarters of low-cost PCs and laptops.
The SSDs will be available in 4GB, 8GB, and 16GB capacities — certainly not record-breakers, but the case-less memory module is only 3mm tall and has only one-tenth the weight of a typical 1.8in HDD.
SanDisk's pSSD offering (the 'p' stands for a parallel ATA interface) will use Flash multi-level and single-level cell technology, with sustained read speeds up to 39MB/s and write speeds up to 17MB/s. The pSSDs are supported by both Linux and Windows XP operating systems.
The drives are being fabbed at plants in Yokkaichi, Japan, with partner Toshiba sharing the output. Both companies have co-developed the designs for their NAND Flash products.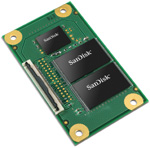 The senior VP of Sandisk's SSD division stated his love for the so-called ultra low-cost PCs - Small, Cheap Computers™, in other words - market.
"Based on consumer response to some of the first ULCPCs, these devices are quickly developing a popular following," he said. "Our new pSSDs are enablers for manufacturers to create what could become the next wave of personal and portable computing devices."
The drives are expected to roll out in August, when SanDisk will also start talking price. Considering the drives are destined for computers under the $500 range, they shouldn't be breaking the bank.
Bootnote whining
With all the love surrounding the low-cost systems, there really should be an agreement on what to call the darn things. They've been dubbed ULCPCs, netbooks, and sub-notebooks and there's other terms too. Hey, we love synonyms as much as the next set of journalists, but come on now. It's no fun having to introduce five ways to say the same thing in every article about them. Let's summon a tech council of Elrond to decide this. ®