Heaven and Earth moved to slot Sun chip in IBM blade
Themis works mortal magic
Sun Microsystems has found an OEM partner wanting to give its UltraSPARC T2 chips a new home — inside an IBM BladeCenter chassis.
Themis Computer today said it will use Sun's eight-core UltraSPARC T2 - aka Niagara - processors in a new line of blade servers, called T2BC.
The deal is a rare third-party licensing victory for Sun's silicon. The company has been trying to tempt other companies to license its processor technology since it formed a separate microelectronics unit in March of last year.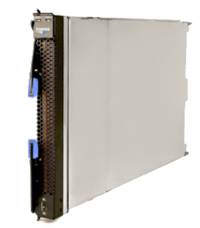 T2BC blade servers function as an independent Sun T2 server running the Solaris 10 OS. They'll have up to 32GB DDR II memory, up to 500GB storage, and fit snugly into the various versions of the BladeCenter with other IBM blade servers.
Themis mostly sells its hardware to the military/aerospace sector, various government agencies and telecommunication companies. It's already had a pretty long partnership with Sun, and has been fine with Sun's aging UltraSPARC IIIi chips until now. But Themis says the T2BC will be the first of several products it will develop based on the T2 processor.
"Our customers are always looking for more performance and lower power, and the UltraSPARC T2 processor's innovative chip multithreading architecture provides both," stated Themis CEO Bill Kehret.
T2BC blade servers will begin shipping in August, starting at $15,000 (government customers, remember). The server blade's spec sheet is available here. ®